Click to join Guy Aitchison's Tattoo Education Mailing List!
Welcome to Tattoo Education.com
We have a variety of educational and reference books and DVDs for tattooers.
Tattoo Education News
New Ask Guy Column: How Do I Educate Myself As A Collector?
I've really been enjoying the broad variety of questions I've been getting from both clients and artists for my monthly Ask Guy column that I publish through Tattoo Magazine. This month's question was pretty broad though, being from a collector who wanted to get a better education about art so they could make more informed decisions about getting tattooed. Many collectors arrive at this point, where they are starting to get larger work and to recognize that they have particular tastes and needs as a collector. I've tried to narrow my answer down to the essentials so that someone who has very little experience with art history can get more perspective on what makes a good tattoo and, more importantly, how to find the right tattoo for each particular collector's needs. Look for it in Tattoo Magazine #296, on newsstands now... or you can take a look at the column here at www.tattooeducation.com, along with an extensive archive of past columns and other material. Don't forget to submit your own questions, they are what keep this column rolling!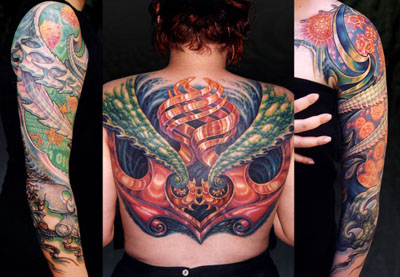 ---
New Ask Guy Column: How Do I Break Into The Tattoo Business?
The Ask Guy column that I write for Tattoo Magazine has given me a lot to think about- questions come from such a wide range of people and from so many different perspectives, it's really kept me guessing from one month to the next. But one question seems to be a constant, and in fact I remember asking it myself, almost three decades ago: How do I break into the tattoo industry? How can I be a part of this great thing, and go about it the right way so I don't end up burning bridges or getting off on the wrong foot?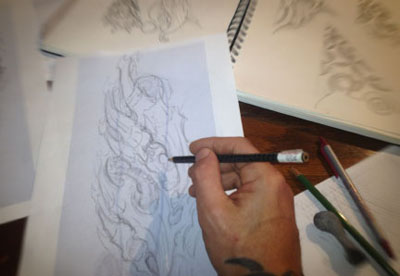 It's been asked many times in my Ask Guy inbox, so this month I chose three different versions of the same question: One from an art student, one from an ex-con, and one from somebody who is so eager to get started that they are considering attending one of those kind of dubious tattoo schools. I tried to come up with an answer that will be helpful to everyone. The tattoo industry is a thing that those who are a part of it love and feel protective toward... but there is always room for new people if they have the right attitude and approach it the right way. Go ahead and take a look at Issue #295 of Tattoo Magazine, or check it out in the Ask Guy archive here at www.tattooeducation.com. And don't forget to submit your own questions, I'd love to hear from you!
---
Upcoming Tattoo Education Events
No Upcoming Events