Click to join Guy Aitchison's Tattoo Education Mailing List!
Welcome to Tattoo Education.com
We have a variety of educational and reference books and DVDs for tattooers.
Tattoo Education News
Now Available: Feathers Of Inspiration, An Epic New Art Book Set!
Over the past few years, Jinxi Caddell of Out Of Step Books has assembled a number of incredible tattoo art anthology books, most of which we carry at the Tattoo Education online store. These include the recent releases Eight Arms of Inspiration and Antennae of Inspiration, hardcover large-format coffee table art books featuring hundreds of pages of art from a long list of incredible artists, including many of your favorites along with many that you'll be discovering for the first time. They're great books for both artists and collectors, and I can tell you from experience that they go over extremely well both as gifts and as reading material in the tattoo studio waiting room.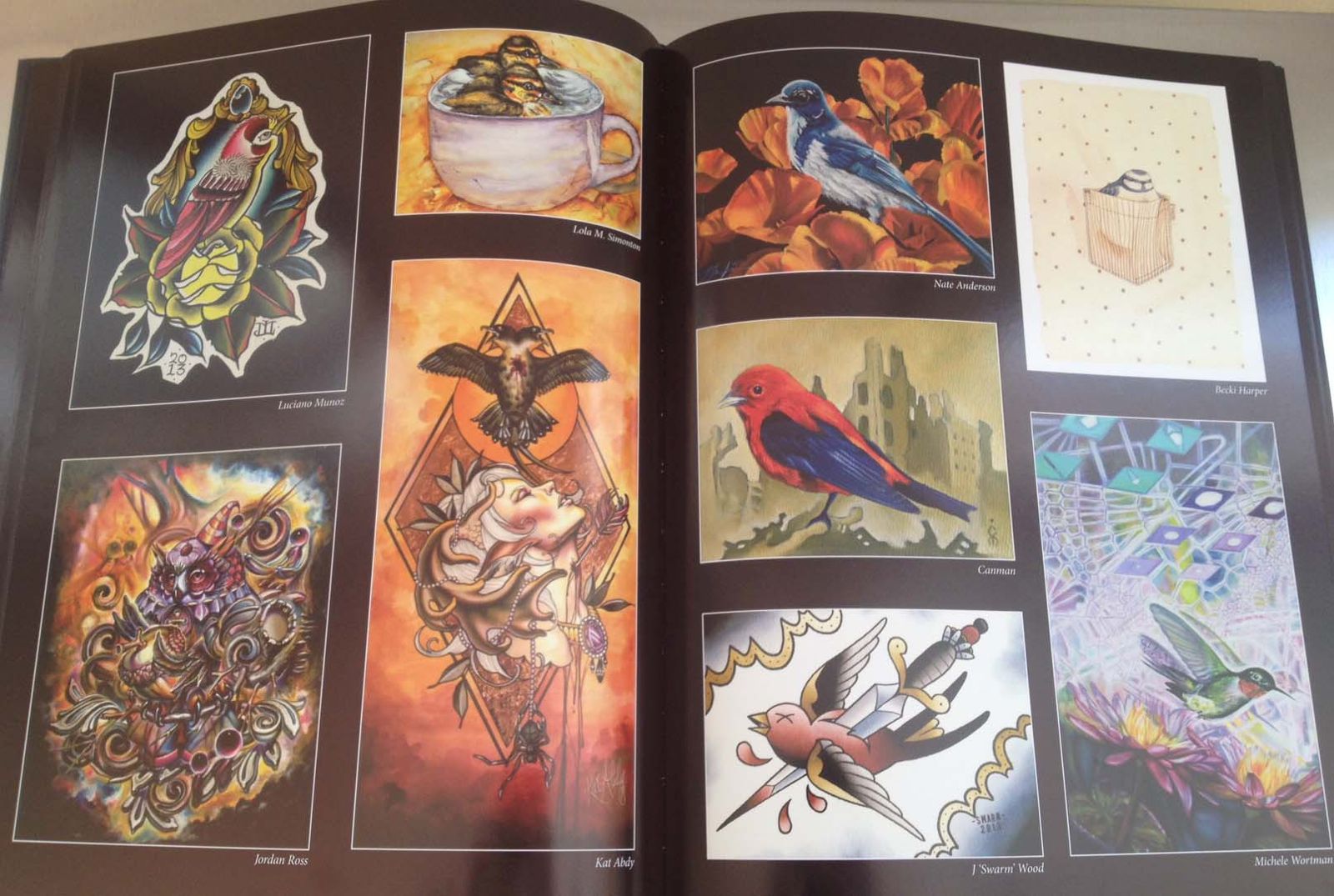 So we are psyched to be adding the latest one, Feathers Of Inspiration: The Bird Art Project, to our online catalog. It's a project that became so massive that they chose to break it up into two separate volumes, one of just tattoos and the other of all kinds of other mediums including oils and acrylics, watercolors, drawings, sculptures, photography and more. This is a limited edition pressing with only 750 sets available, which are sure to be gone by the end of the year. Works include a number of pieces by our very own Michele Wortman, plus hundreds of other artists of a broad range of styles. You can find this incredible book set now at our online store!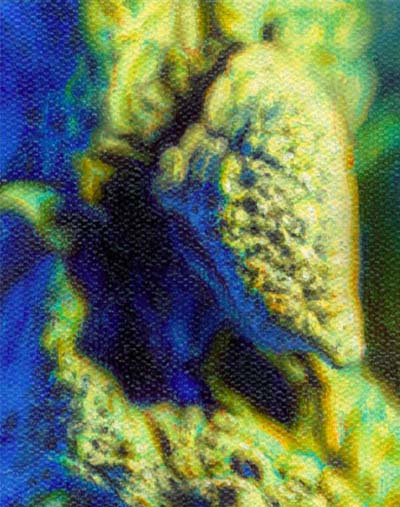 I also wanted to mention that I have another painting from my book Organica posted on eBay this week. This is a little guy, 3x4" inside an extra-thick gloss black frame that can be hung or placed on a shelf, and would make a great little addition to your home or studio art collection. The small, affordable pieces from Organica are mostly gone at this point, so now is your chance to pick up a part of this collection.
Thanks, and I'll be in touch soon!
---
Nick Baxter Book Available In Electronic Format!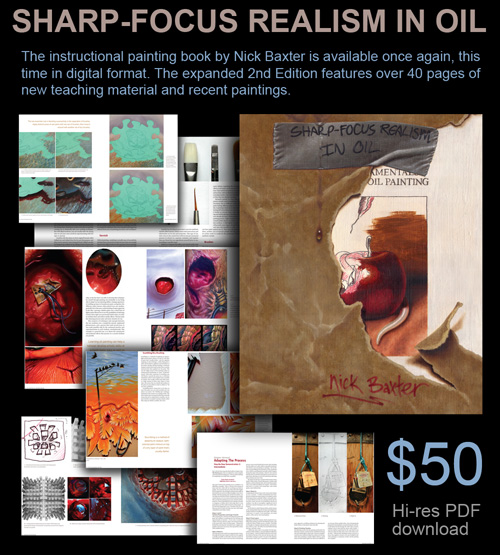 Since our last copies of Nick Baxter's acclaimed Painting book, Sharp-Focus Realism In Oils, sold out we've had countless requests for it... which is why we are so glad that Nick had the chance to sit down and do a few crucial updates on the book, then release it in an electronic format that you can read on your computer, tablet or phone. Sharp-Focus Realism In Oil is not only a comprehensive, richly illustrated learning aid, but also a beautiful art book loaded with Nick's intense, hyperreal visions. It's the first e-book we are offering at the TattooEducation online store... no doubt the first of many, as the e-book format catches on.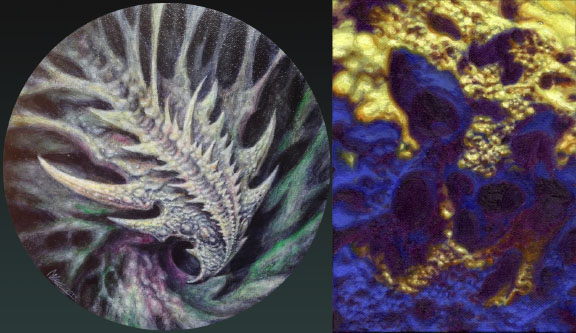 Speaking of painting, I wanted to mention that I have two original paintings listed at eBay right now. One of them is a small untitled abstract piece from my book Organica. It's signed and framed in a deep box which can be hung on a wall or placed on a shelf. The other is a recent abstract acrylic circular canvas, part of a series I'm currently working on. Either would make a great focal point in your home or your tattoo work station... the Organica listing ends tomorrow, and the circular painting just a couple days later.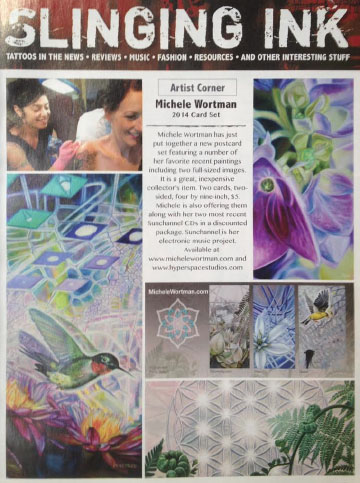 Last but not least, Michele was given a nice single page spread in the current issue of Tattoo Magazine, issue #301. It features her new collector's card set and shows some of her recent works on canvas. As always, thanks to Tattoo Magazine for everything they do.
Thanks, and we'll be in touch soon!
---
Upcoming Tattoo Education Events
No Upcoming Events