March 22, 2011
Keith Ciaramello's Keep it Real Volume 2
March 22, 2011
Greetings from Tattoo Education!
We are psyched to add the second installment of Keith Ciaramello's realism educational program to our catalog. In "Keep it Real Volume 2", Keith picks up where he left off in KIR vol.1 by explaining applied realistic techniques in black and grey. Keith continues to provide the clear, detailed explanations he has become known for, and once again (as in KIR Vol.1) includes his onscreen "Palette Cam" and photo reference throughout the entire process. Presented almost entirely in real time, and shot with extreme closeups so clear you can count the needles. Find out firsthand why Keith's instructional DVDs receive such positive testimonials from tattoo artists all over the world. If you have any interest in improving your realism techniques, this 4 hour/2 DVD package is an opportunity not to be missed.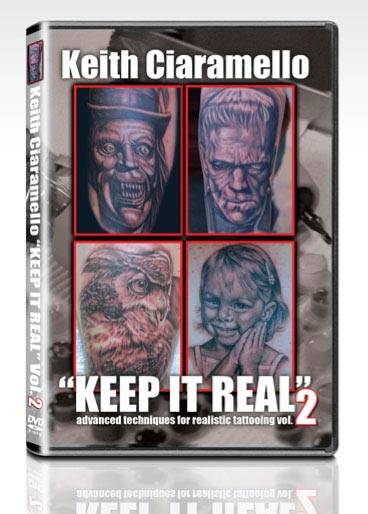 Available now at www.tattooeducation.com, for only $75!
We have several other great new educational products available soon... we'll be in touch!