July 15, 2011
Japanese magazine Tattoo Burst Article
Friday, July 15, 2011
Greetings from Tattoo Education!
It's been a while since Michele and I have done a major article in a tattoo magazine; although it's helpful for tattooists at any stage in their careers to submit work to the magazines every now and then, just to keep their work in general circulation, we tend to pace our magazine appearances further and further apart. But when our friends at the Japanese magazine Tattoo Burst invited us to grace one of their issues, we made a point to gather some of our favorite recent work together for them. Japan has a long history of doing innovative designs on skin, dating back hundreds of years, and their contemporary tattoo culture is vibrant, technically strong, breaking new ground while remaining firmly rooted in their long tradition, so we were honored to have the invitation.
Since Tattoo Burst is difficult to find outside of Japan, we thought we'd post the article online so you can all check it out, including an English language translation of the interview; you can find it at our art site, www.hyperspacestudios.com, at the Events page. Check it out, and while you're at it be sure to drop by the Hyperspace online store to check out our vast variety of wearable art goods, archival prints, music and other fun creative gifts.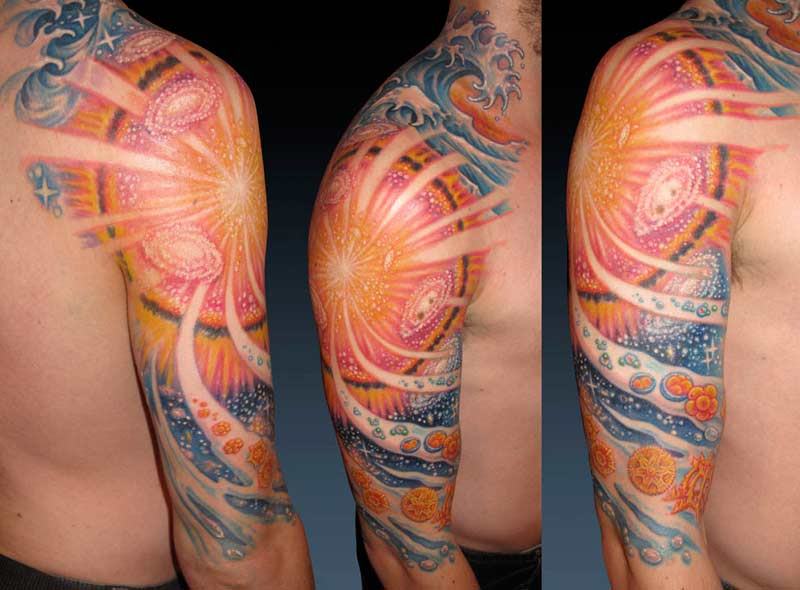 For those of you in the Los Angeles area, our friend and client Jamie Kilstein (pictured here) is scheduled to perform some of his noted hard-edged political comedy at the Steve Allen Theater this coming Monday night at 8:00pm. This is one of his most important performances yet and he expects some influential people in the audience; what he needs now are some tattooed rabble-rousers to show up and give the crowd a little color and life. He's not only very funny but also smart and very on-point with current affairs. If you're interested, click here for tickets (only ten bucks!), or check out Jamie at www.wearecitizenradio.com.
Thanks, and we'll be in touch soon!