September 14, 2011
Cranial Visions Softcover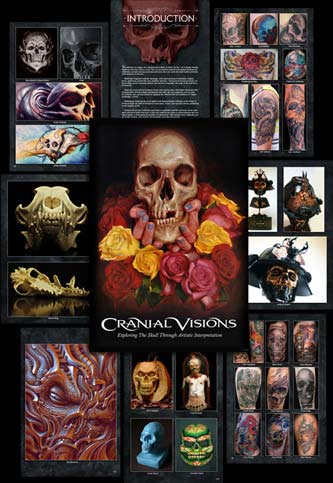 September 13, 2011
Greetings from Tattoo Education!

Tattooing is an art form that attracts a wide variety of artistic styles. A vast spectrum of artists express these styles creatively not only on skin but in other media as well, including painting, sculpture, digital art, etc. Art done by tattooists has been collected into group art show or book projects numerous times, and always makes for a great viewing experience. Memento Publishing's recent book release, Cranial Visions, is a great example- the skull, a classic favorite tattoo motif, translated into a dizzying variety of tattoos, paintings, sculptures, photographs, digital creations and other hybrid art.

Cranial Visions is now being offered in an affordable softcover edition- 800 images for only $60! It's a must for your shop library, or makes a great gift for any tattoo fan. Available now at our online store.

We'd like to also remind you of another book we're carrying from Memento Publishing, Tattoo Prodigies. Rather than being a theme-oriented group project, Tattoo Prodigies features tattoo work by some of the world's most sought-after tattooists, each showcasing their own style or specialty, in a beautiful large-scale format; some artist features include detailed interviews. It's another great book for the studio library, a perfect companion for Cranial Visions, only $80!