October 6, 2011
Chris Dingwell's book Inside Out now for sale!
October 6, 2011
Greetings from Tattoo Education!
We are psyched to announce the release of Inside Out, Chris Dingwell's new book of acrylic paintings. Chris is one of tattooing's more stand-out wild card artists, and never fails to surprise with his wit and originality. His characteristic paintings have become a favorite among collectors within the industry; we proudly display a major sculptural work of his here in Hyperspace Studios. Over the past few years he has cranked out an epic body of paintings, each more unpredictable and visually overwhelming than the last. Finally he's had the chance to bring this work together into a fun, affordable and highly collectible book.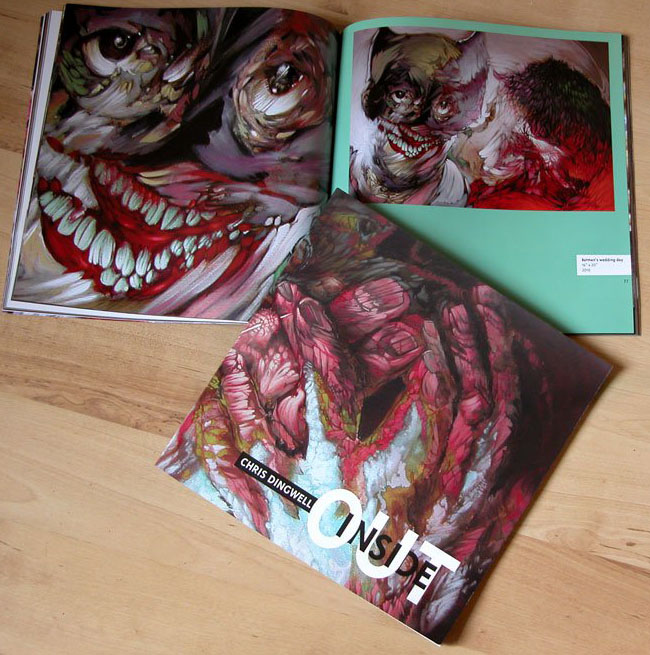 Simply put, Inside Out will rattle your eyeballs.It's one of the most unique and visually stimulating new art books to hit the market in a long time. Chris is a true original, and you can now enjoy his works up close in this high-quality 150 page glossy paperback volume. Available now at our online store for only $40.00!
To celebrate this book release I waylaid Chris long enough to get him to answer a few questions in an exclusive interview:

1) G: When we first met- I believe it was in front of Ed Hardy's booth at a convention in Chicago- you were showing off some impressive sculpture pieces you'd done as part of your Master's thesis (do I have my facts straight...?) you had a keen interest in tattooing and a broad range of art skills, but hadn't actually started your apprenticeship yet. With such a broad creative background, what was it about the tattooing medium that was so attractive to you?

C: Yes Guy, you remember that right. It was in Chicago in 1993. I had never ben to a tattoo convention in my life, and in fact at that time, I hadn't really begun to think seriously about becoming a tattoo artist at all, although those thoughts were starting to brew... However, I had been interested in the images, symbols, and history of tattooing for some time, and had been working with tattoo imagery in my sculptures. Of course I had seen several of Ed's books, and knew he was scheduled to be there, so I decided I had to go meet him. I was sheepishly showing photos of my sculptures to Ed at his booth when you walked by, and Ed called out to you "Hey Guy, You gotta come see this kid's stuff" And that's where it all began: you decided you had to have one, and I decided to have you tattoo me in trade. (I was so green and foolish I asked you to do a Pseudo Japanese thing that I had the balls to draw for myself! Idiot... So many many great lessons I have learned since then...)

To answer your question, I think there were many things about tattooing that attracted me immediately. The wide range of amazing artistic designs that were coming out in the early 1990's had a great deal to do with it. Tattooing was clearly in the midst of making a great creative leap, and I wanted to be part of it. I also love the great technical challenges that tattooing has to offer. As a painter, sculptor, ceramicist, glassblower, and printmaker, I've always enjoyed working with more complicated technical processes, so it was a lot of fun just learning how it works and how to do it.

Most of all though, it's a completely different experience from anything that an artist creates in the seclusion of his or her own studio: we tattooers work directly ON our clients. Everything I make as a tattoo artist is a collaboration; a blend of my clients ideas and my own, but ultimately the finished product is meant to express that other person's vision of themselves, not my own personal vision. I love that! Throughout all of my years in art school, I had been expected to constantly express my own voice, and I was frankly sick of hearing it. It was a tremendous breath of fresh air to be challenged by such a wide variety of exciting new ideas. In fact I've never worked so consistently for such a long time in any other medium, and it's the constant exchange of ideas that keeps me feeling excited to come into the studio.