December 6, 2011
Tattooing Techniques
December 3, 2011
Greetings from Tattoo Education!
I get a lot of email from tattooers. A lot of it is appointment requests (which I'm grateful for, even if I can't get back to everyone) but there is also a lot of curiosity about technique. The two most common questions I am asked are, 1) whose machines are you using? and 2) what pigments do you recommend?
For the record, I do have recommendations, and I'd like to share some of them here. But I first want to point out that this is based entirely on my experience working with these products, along with listening carefully to my friends and colleagues about their experiences. I do not- and never have- taken any payment for recommending tattooing products, and in fact have turned down a number of lucrative offers to do so. I feel that it's far more important that I can share with you my honest opinion about what works and what doesn't.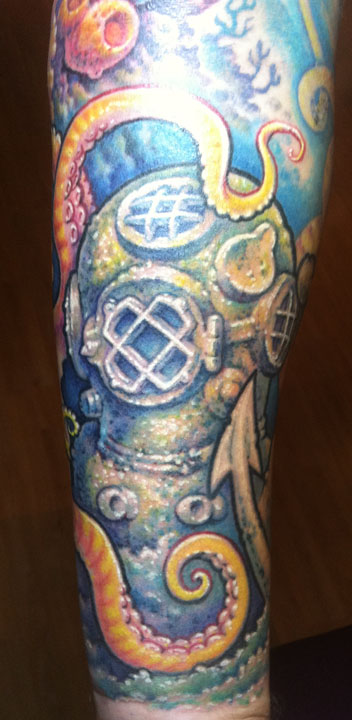 That said, I believe there are many fine brands of pigments available these days, and only a few that are terrible. I've been using a combination of several brands including Eternal and Fusion- these two brands are direct competitors, but I believe that is part of what makes both brands so good. Both brands have taken considerable advice from artists and expanded their selections to include many unusual off-colors and weird tones, vastly broadening the range of what's available. This has helped revolutionize color tattooing in recent years.
I am regularly trying out new machines, different size needle groups, new tube designs etc... but I often find myself gravitating toward a favorite set of machines. For several years now I've been using a lightweight steel liner from Tramp Welker for fine detailing, an aluminum lining shader (a compromise between the short stroke of a liner and the long stroke of a shader) from Fallen King for all my 5 mag work- I do a lot with a five mag, including the initial layout of most large work. I use a production model Aaron Cain machine for driving my big mags, and just recently purchased a liner from Chris Smith of Deluxe Tattoo in Chicago, which I've been using for bold linework and small painterly details, usually with a loose 7 or 9 round. These four machines provide me with the full range of working styles I need to produce the kind of bold but finely rendered work that I'm known for.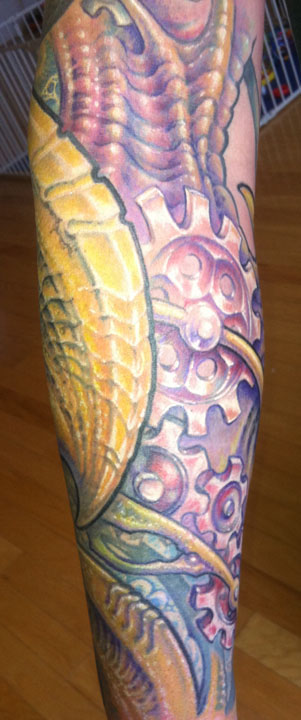 We carry a lot of great educational books and DVDs at www.tattooeducation.com from a number of the industry's most innovative artists going into detail about their design and technique strategies, including DVDs from realism sensation Nikko Hurtado, renowned pinup artist Joe Capobianco, portrait and wildlife expert Mike Devries, traditional/illustrative tattooer Russ Abbott, comprehensive realism instruction from Keith Ciaramello, plus my own massive educational package Reinventing The Tattoo, where I go into detail about techniques like the ones I mentioned earlier... along with a ton of other great educational books and DVDs.
Every day is a great day for improving your work; come check out our catalog and see how you can become even better at your profession.
Thanks, and we'll be in touch soon!

Guy Aitchison
www.tattooeducation.com
www.hyperspacestudios.com
www.protonpress.com