January 18, 2012
Dan Henk: The Black Seas Of Infinity is Now Available!
January 18, 2012
Greetings from Tattoo Education!

Many of you know, or know of, Dan Henk... he's recognized for his edgy, horror-related tattoo work and dark illustrative paintings. Like many tattooists, Dan has a variety of interests and creative pursuits... and has written a sci-fi novel, complete with illustrations.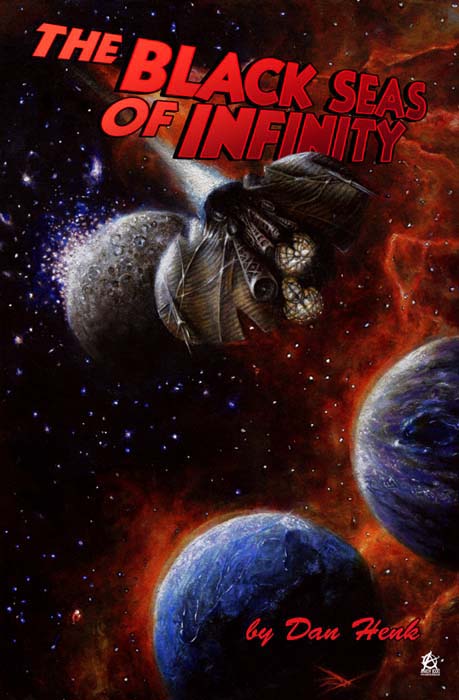 "The Black Seas Of Infinity" pays homage to the pulp greats of the '70s and '80s, while exploring some interesting new ground. The main character, who we never really get to know by name (should we just call him Dan?), through a series of strange circumstances and decisions, ends up giving up his human body- permanently- in exchange for a high-tech, alien-made humanoid chassis. With no ability to speak and no immediate prospect of death, the plot has all kinds of interesting room to move. One of the most striking aspects of the story is the character's extensive journey across the eastern United States, through the South and into Texas and beyond, through a near future civil-war-torn America. No specific reason or background for the conflict is given, and in some ways it halfway morphs into this brooding, florid meditation on the decadence of modern culture, until the character finally reaches Mexico and the story shifts into sci-fi high gear. A fun read, for not only fans of the genre but anyone who enjoys Dan's dark, intense style. 268 pages, $11.
Although we are primarily an educational website, we like to also carry art books and other creative items produced by tattoo artists. It's very rare for a tattooist to produce a novel, so we're psyched to be able to carry this item here at our online store.
Thanks, and we'll be in touch soon!