September 9, 2012
"The Tattoo Copyright Controversy"
September 9, 2012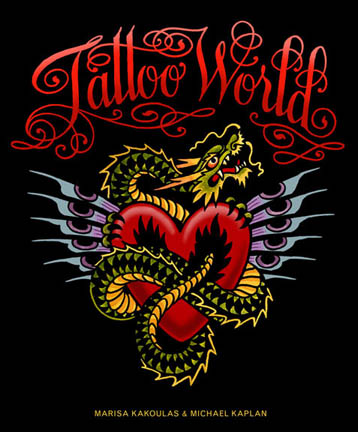 We are excited to present our first guest blog, written by
Marisa Kakoulas
, editor of
Tattoo World
, along with a number of other heavyweight tattoo art books. In addition to publishing, Marisa is also involved in copyright law, and in particular has been narrowing her focus onto tattoo related copyright law. It's fascinating information at a time when these things seem awfully ambiguous. She'll be giving a
seminar
on the subject at the upcoming
Paradise Tattoo Gathering
in Colorado next weekend.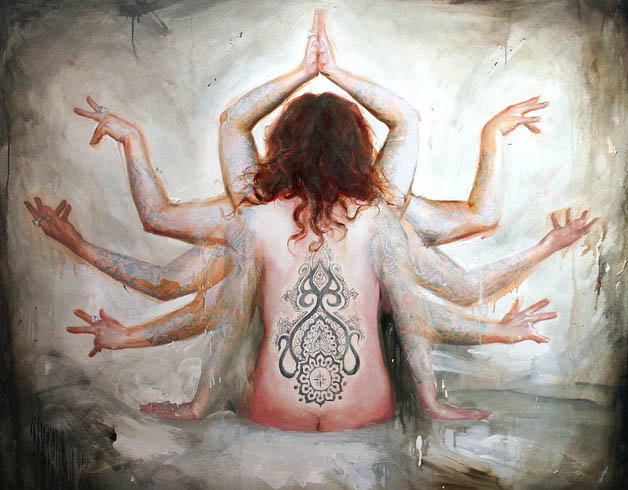 (Portrait of Marisa Kakoulas by Shawn Barber, as shown in his new book
Memoir
)
So without any further delay, I'd like to introduce Marisa Kakoulas:
So much has changed since then. With the explosive growth of the industry and the co-opting of tattoo culture by the media and big business, tattooists and collectors are fighting more and more to protect their art from being appropriated and exploited without their permission. On the flip side, there are more opportunities for artists in the community to profit from their work with licensing deals -- partnering with other business to create designs for merchandise, media, murals, etc. for fees and royalties that are negotiated to reflect the true value of the art. Developing a reputation, even a brand, for quality tattoo and design work warrants protection as well as, especially in light of unscrupulous shops looking to bank on another's credibility.
The seminar will begin with the basics: What exactly is copyright, trademark, and licensing? Breaking it down:
Copyright protects original works created in some fixed form (not ideas) including artistic works, literature, music, movies, plays, computer software, among others.
Trademark protects the owner's reputation and goodwill. As defined by the US Patent and Trademark Office, "a trademark is a word, phrase, symbol or design, or a combination of words, phrases, symbols or designs, that identifies and distinguishes the source of the goods of one party from those of others." A Servicemark is the same except it relates to the source of a service, like tattooing.
Copyright and trademark owners can license their work to others – that is, give a limited right to sell, distribute or reproduce their copyright-protected work, and, in the case of trademarks/servicemarks, to grant a limited right to their identity and goodwill and use it for products or services.
Taking these basics, I apply them to tattooing, addressing the following questions and many more:
Who owns a tattoo? Is it the artist or the client or both?
How do you register a copyright or trademark/servicemark?
How can you protect your art from being used without permission?
How can you protect your studio's name, logo and reputation?
How do you protect yourself from copyright or trademark claims?
What are some of the ways you can generate revenue from your artwork and image beyond tattooing?
I'm also happy to field questions from seminar participants and have an interactive discussion on artists and collectors' perspectives on the law.
If you can't make it to the talk, but want to learn more, you can check my writing on tattoo copyright linked below: