October 16, 2012
The Paradise Artist Retreat
October 16, 2012
Greetings from Tattoo Education!
For as long as Michele and I have been traveling together to tattoo conventions, we've always had an interest in being involved in
side projects
, events that brought together tattooists who have interests in other art forms besides skin. Several of these projects were alongside
major tattoo conventions
, taking advantage of the fact that so many artists were already traveling to be under one roof. More recently, we've been involved alongside
TattooNow
's Gabe Ripley in the
Paradise Artist Retreat
, which is a stand-alone fine art event catered to the tattoo industry.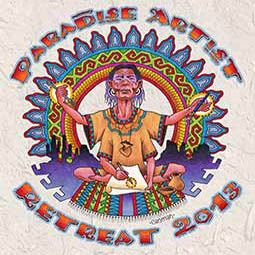 The first Retreat happened in late 2010 in Massachusetts, and brought together a diverse group of talent to take part in a stellar array of classes, workshops and seminars. Parenting duties caused us to miss the second one... But coming in March of 2013 we'll be co-hosting the
third Retreat
, this time in New Mexico. As with the first Retreat, we'll be starting each day with a live figure drawing workshop before embarking on that day's workshops, then closing each day with a high-powered panel talk followed by open studio time. This time, though, we've expanded the curriculum to include several well known visionary artists from outside the tattoo world including noted dark surrealist
Chet Zar
, and world-renowned visionary artists
Alex
and
Allyson Grey
.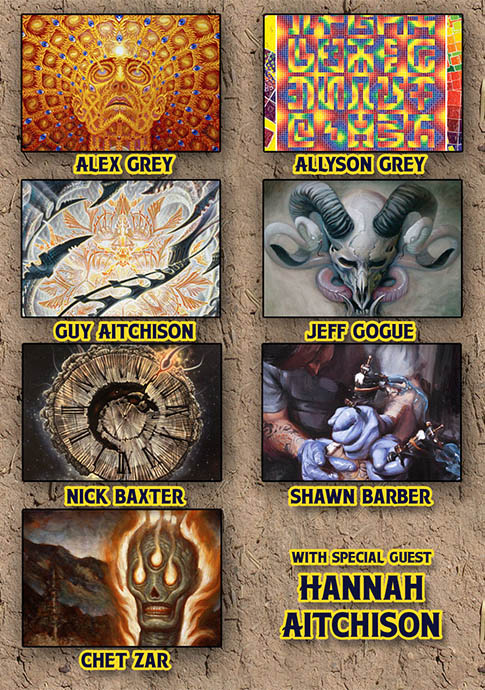 Michele and I met the Greys at a workshop they were giving at the Omega Center in upstate NewYork, back in 1999. The class was intended to help artists open up their visualization process, expand their vocabularies, and empower them to dig deeper into their imaginations. We enjoyed the class so much, and enjoyed their unique style of teaching, that we ended up going back a second time. Since then, we've had the honor of
painting alongside
them on a number of occasions, including
some tattoo events
, the most recent one at their
CoSM
gallery in upstate New York. The two of them incorporate a deep historical perspective into some truly novel modern approaches, and have a lot to offer for anyone looking to expand their skills.
Thanks much, and we'll be in touch soon!
Guy Aitchison
Michele Wortman