December 22, 2013
Available Now: Keith Ciaramello's Keep It Real III
Happy Holidays from Tattoo Education!
With color realism being in such demand these days, we've made a point of carrying a variety of different artists' instructional DVDs showing approaches to this particularly challenging style of tattooing. One of our time-tested favorites has been Keith Ciaramello's Keep It Real series, which offers a close-up intimate view of the realism tattooing process by this New York tattoo veteran. Volume 1 focuses on straightforward color portraits, and Volume 2 demonstrates portraiture in black and gray. Now with Volume 3 he offers an insightful glimpse into pet portraiture, which has recently become a popular- and sometimes surprisingly striking- tattoo motif.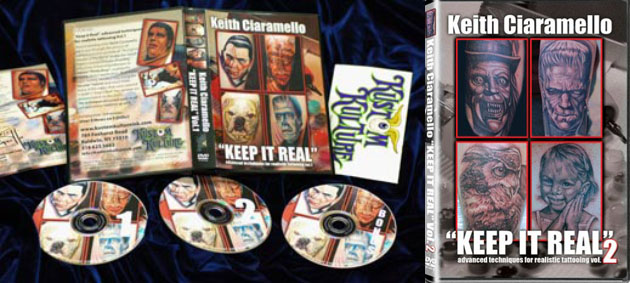 In Keith's approach you can see how his foundation in painting and other mediums translates into his painterly approach to handling subtle realistic color on skin. It shows pretty much the entire tattoo process over the course of 4 hours on 2 DVDs, with the whole procedure described in detail. It's meant for tattooists who already have a solid foundation of basic technique and are looking to take their realism work to the next level. Come check out the Keep It Real series at the Tattoo Education online store, including a specially priced combo pack including volumes 1 & 2, available now!
Thanks, and have a great holiday!