January 19, 2014
Announcing the Aitchison / Gogue seminar intensive!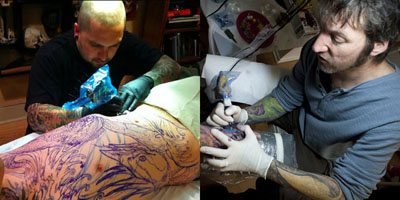 Last year's live webinar, Guy's Bag Of Tricks, had such a great response that I've been psyched to line up the 2014 online seminar schedule. The first one, coming up in less than a month, is particularly exciting for a number of reasons. I'll be visiting Grant's Pass, Oregon to do a brief guest spot at the Off The Map location there for three days of seminars with the legendary Jeff Gogue, featured last month in Hypercast 6: The Japanese-American Connection.
On February 9 is the first class, and it will be webcast live for free to the public at www.tattooNOWtv.com. This seminar won't be going into deep technical detail, as it will be available to the public, but will cover all kinds of other things pertaining to how Jeff and I design and execute large tattoo work. It'll be a collaborative project where we will be working together on a sleeve project that fuses traditional Japanese elements alongside cutting-edge techniques. We'll be taking audience questions, so mark that day in your calendar- it'll be a rare glimpse inside a high-energy creative process.
Then on February 10 I'll be giving a seminar, Structure, where I do a large calf piece that will include both abstract and representational elements and employ a whole range of techniques. This one will get quite nuts-and-bolts technical about all stages of the process, and I'll be taking audience questions as well.
Finally, on the 11th Jeff will be giving a seminar where he will be tattooing my hand. This project will be smaller but provides an opportunity for Jeff to demonstrate his magic on a small and personal scale. For obvious reasons I'm pretty psyched about this one but I think it will be an amazing learning opportunity for all of you as well. So tune in to the free webcast on February 9, and be sure to sign up in advance for webinar tickets for the 10th and 11th. There is also limited seating available for anyone wanting to attend the seminar in person at Off The Map Tattoo- be sure to get your tickets now at the Tattoo Education online store!
Thanks, and we hope to see you there!