March 7, 2014
Coming up in April: Guy Aitchison Seminar at the Hell City Tattoo Fest!
With the tattoo art form spreading into every conceivable artistic style, it's important to take a step back every now and then and ask: What does this need to succeed as a tattoo? The question of longevity is the obvious issue, but the larger underlying importance of giving your work strength and clarity is not just about durability across time, but readability across the room.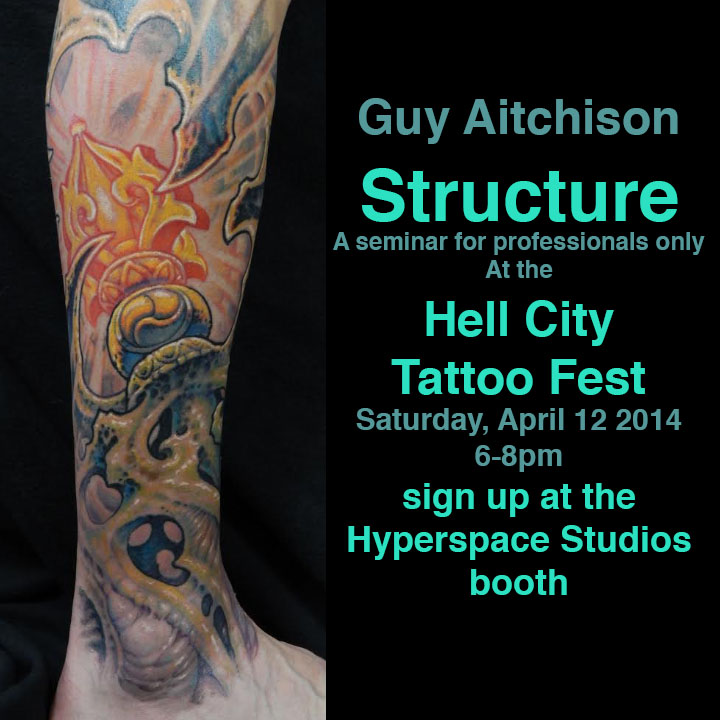 In Guy Aitchison's new seminar, Structure, he demonstrates ways of strengthening your work, both in design and execution. It starts with a well balanced composition, with good flow and fit and strategic use of dark and light, which is then applied to skin using a variety of different ways, some which are shown in closeup video clips. Structure reflects Guy's most recent understandings of making your work strong and dynamic... if you're attending the Hell City Tattoo Fest this coming April 11-13, be sure to take advantage of this opportunity! It's happening in the prime slot on Saturday evening from 6-8pm in the Hell City Seminar Room. You can sign up at the Hyperspace Studios booth on the convention floor, or prepay at the Tattoo Education online store.