June 9, 2014
Tony Ciavarro's Shut Up And Draw 2: How I Tattoo, Available Now!
Tony Ciavarro has been around the scene for a while now, and many of us are familiar with his bright, fun, rock-solid tattooing and his whimsical illustrative style. We already have a DVD from Tony in our catalog, Shut Up And Draw, which shows the essentials of bringing a fully realized color tattoo design from concept to completion. It's been a popular and well-received tutorial, so we are psyched to announce the release of its sequel, Shut Up And Draw 2: How I Tattoo.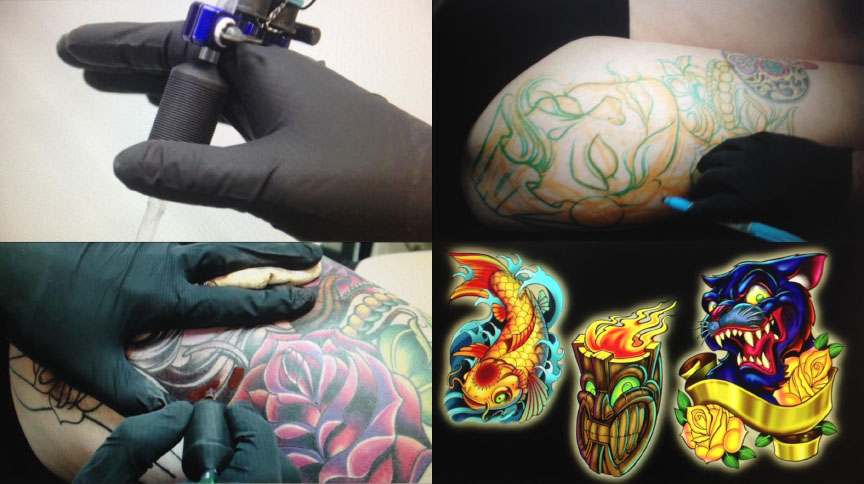 Shut Up And Draw 2 is a great disk to watch in the shop with your fellow tattooers. It's done in a punchy, entertaining presentation, with a lot of the tattooing sped up to show the whole 3 session project in under 90 minutes while accompanied by an energetic musical soundtrack. There's also a bonus section showing a second project being done, a smaller and more self-contained girl's face, with the rich color scheme unfolding over the course of a few minutes. And to sweeten the deal there's a chapter of tips and tricks such as machine position, shading and coloring essentials, plus some basic color theory, although Tony's "theory" is about as informal as it gets. It's a great tutorial done in a style that a hard working tattooer can relate to.
We've got it now at our online store... and if you haven't picked up the first Shut Up And Draw DVD yet, you can save $10 by ordering them together in the Ciavarro Combo Pack.
Thanks, and we'll be in touch soon!