June 28, 2014
Tattoo Education Now Streaming Educational Video On Demand

It's been a long time in the making, but we are now able to offer secure, high-definition streaming of educational videos. Streaming has a lot of advantages over DVDs: For starters, many of our tutorials are in high-definition, allowing you to see the action of the needle in unprecedented detail. Seminars can be of any length, not being limited by the disk capacity, and there's no disk to worry about. You just enter your code from any location on any kind of device, then sit down and learn.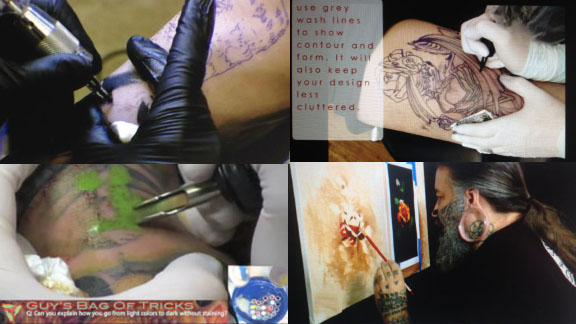 Since much of our content is intended for professionals only, we are keeping a Verified Professionals list. If you have ordered from us before from an established tattoo studio, you are probably already on that list. If not, you can just click here to fill out the application form, or go ahead and order the tutorial of your choice from the catalog and fill out the form at that time. Getting on our Verified list allows you to order professionals-only items (which are marked with red flags in our catalog) easily from any location. Considering that digital content will be making up a larger proportion of what's available in the near future, we need to make sure we have a secure way of keeping this information exclusively in the hands of the professional community, so come sign up today!
Meanwhile, we have over a dozen titles available in the Video On Demand part of our catalog from artists like Jeff Gogue, Kelly Doty, BJ Betts, Alex De Pase, Ian McKown, plus my own new five-hour tutorial, Technique. We've also got a number of entertainment items that are available to the general public.
Thanks, and we will be in touch soon!