August 24, 2014
Nick Baxter Book Available In Electronic Format!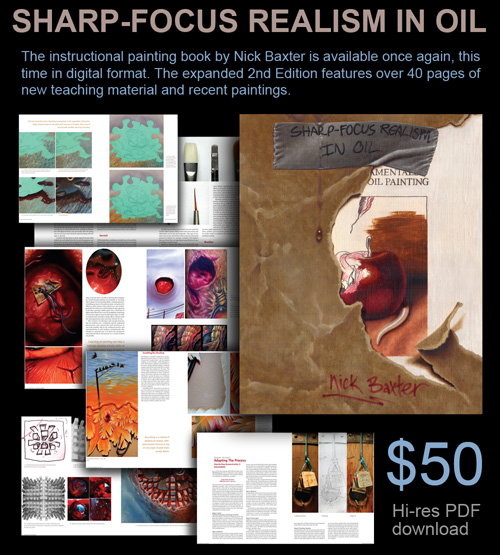 Since our last copies of Nick Baxter's acclaimed Painting book, Sharp-Focus Realism In Oils, sold out we've had countless requests for it... which is why we are so glad that Nick had the chance to sit down and do a few crucial updates on the book, then release it in an electronic format that you can read on your computer, tablet or phone. Sharp-Focus Realism In Oil is not only a comprehensive, richly illustrated learning aid, but also a beautiful art book loaded with Nick's intense, hyperreal visions. It's the first e-book we are offering at the TattooEducation online store... no doubt the first of many, as the e-book format catches on.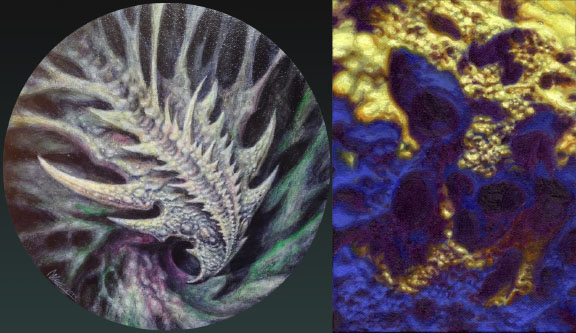 Speaking of painting, I wanted to mention that I have two original paintings listed at eBay right now. One of them is a small untitled abstract piece from my book Organica. It's signed and framed in a deep box which can be hung on a wall or placed on a shelf. The other is a recent abstract acrylic circular canvas, part of a series I'm currently working on. Either would make a great focal point in your home or your tattoo work station... the Organica listing ends tomorrow, and the circular painting just a couple days later.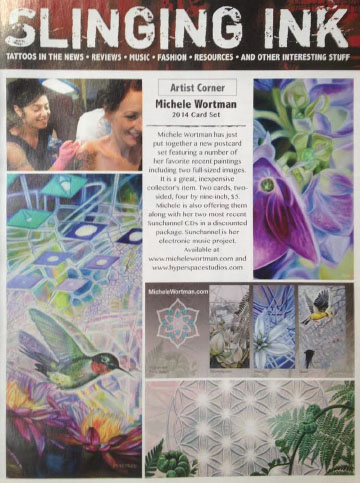 Last but not least, Michele was given a nice single page spread in the current issue of Tattoo Magazine, issue #301. It features her new collector's card set and shows some of her recent works on canvas. As always, thanks to Tattoo Magazine for everything they do.
Thanks, and we'll be in touch soon!