November 3, 2014
Exciting new gallery catalog, limited run!
Over the summer I had a painting hanging in the Somerset House in the UK, along with pieces by such amazing artists as Filip Leu, Titine Leu, Horiyoshi III, Don Ed Hardy, Shawn Barber, Timothy Hoyer, Grime, Paul Booth, Chris Garver, Robert Hernandez, Marcus Pacheco, Jeff Gogue, Sabine Gaffon, Nick Baxter, Eddy Deutsche, Joe Capobianco, Bugs, Ichibay, Nikko Hurtado and Ami James. It was a humbling experience to be invited to be shown alongside these talents, and for the show I produced Zero Hour, which is available as an archival canvas art print at the Hyperspace Studios online store. Anyway, we have managed to secure a limited amount of the catalogs from the show, which come in the form of a large-format 144 page softcover art book. It's a thought provoking and beautiful art collection centered on the theme of Time, in a rich variety of artistic styles. It's available now in our online store.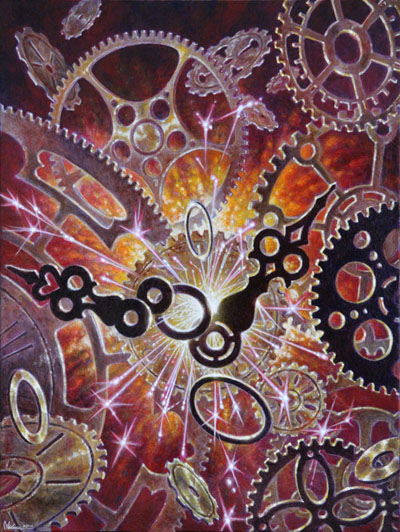 I also wanted to mention that Wacom has extended the promotional code for their Cintiq display tablets until Sunday, November 9. It's a tattoo industry specific promotion that saves $50-100, depending on which model you choose. This is in addition to a temporary lowering of the prices of these units, so that the baseline model of Cintiq Companion, the DTHA1300L is only $999 with the promotional code. Just enter TATTOO_GRWEB in the promotion code box at checkout. At any rate, these are great devices that can bridge the gap between digital and analog, allowing you the most intuitive way to draw directly into your Mac or PC using the software of your choice. You can get more info at Wacom.com. If you've been thinking about picking up a Cintiq but balked at the price, this is your chance.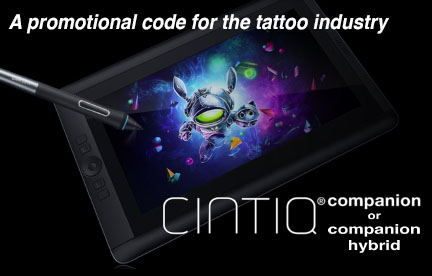 Thanks, and we'll be in touch soon!