November 8, 2014
Coming Right Up: The Worldwide Tattoo Conference, Attend From Anywhere In The World!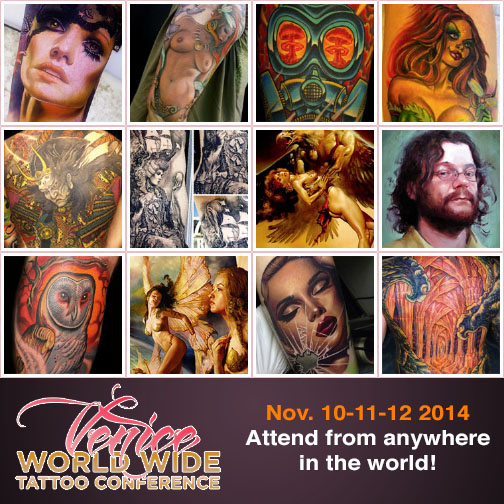 Of all the events that I've been involved in over the past few years, the Worldwide Tattoo Conferences put on by TattooNOW and its affiliates have been some of the most concentrated learning experiences that an artist can attend. The next one is coming right up in Venice, Italy on November 10-12. If you haven't already planned on going, it's likely a bit late to buy plane tickets to Italy now- but fortunately, you can be there via secure online connection and get the full experience without leaving your home or shop.
The WWTC courses are short and sweet- about two hours apiece- so anyone attending will get a brainful of concentrated learning over the course of these three days. This includes seminars by Alex De Pase, Nikko Hurtado, Shige, Carlos Torres, Russ Abbott, Joe Capobianco and Jeff Gogue, and also features fine art with Boris Valleijo and Julie Bell, a business seminar with Gabe Ripley and discussion panels moderated by Durb Morrison. I'll also be Skyping in to join the conference via the web and talking about some new educational directions with Durb and taking audience questions. It promises to be a solid block of intensive learning and networking, and thanks to 21st century technology you can be there without having to travel. Tickets are available now at our online store!
Thanks, and I hope to see you there!