May 25, 2015
Latest "Ask Guy" column out now!!

In all the hustle this past month to get our new studio built, I forgot to mention the latest Ask Guy column in Tattoo Magazine. This month's issue (#310) includes a writeup about large collaborative projects. Recently our friend Evan Griffiths visited from Australia, giving us a chance to finish a sleeve project that he and I had been working on. I thought it was a perfect opportunity to talk a little about what the body can take, and what a pair of artists working at the same time can do to make the experience tolerable for the client and to cause the minimum amount of trauma. The copy is on newsstands now, or you can read the feature at the Ask Guy archive at TattooEducation.com, along with the dozens of other informative columns that have been posted there.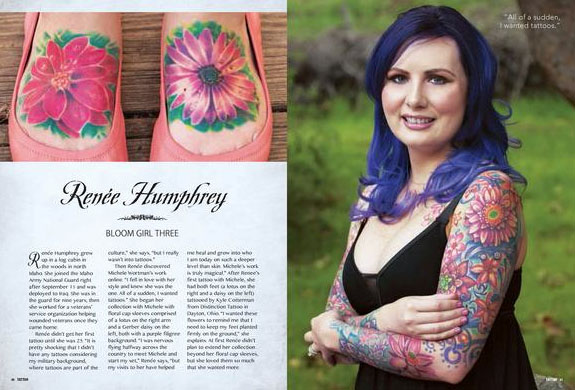 Also in the same issue is a feature on Michele's client Renee Humphrey, who has been working on a pair of sleeves with Michele for several years and is celebrating with a magazine feature. Her collection is a great example of Michele's large scale unified tattoo work; you can see more at her online gallery at MicheleWortman.com.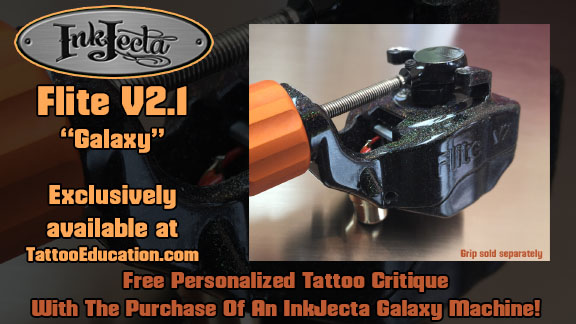 Last but not least I wanted to announce a new special offer. For anyone purchasing one or more of the exclusive InkJecta Galaxy tattoo machines that we now have in stock, I'm offering a personalized critique of your work in a short YouTube video, which you can have set to either public or private. I am asked all the time for critiques, and I thought that including one with a machine purchase would be a perfect way to offer them. When you check out after adding a machine to your cart, you'll find a contact link where you can include a couple photos of your work along with your most pressing questions. I'm psyched about this special offer and am hoping you all take advantage of it. Available now at the Tattoo Education online store.