September 14, 2015
Coming Soon: The Portland Worldwide Tattoo Conference!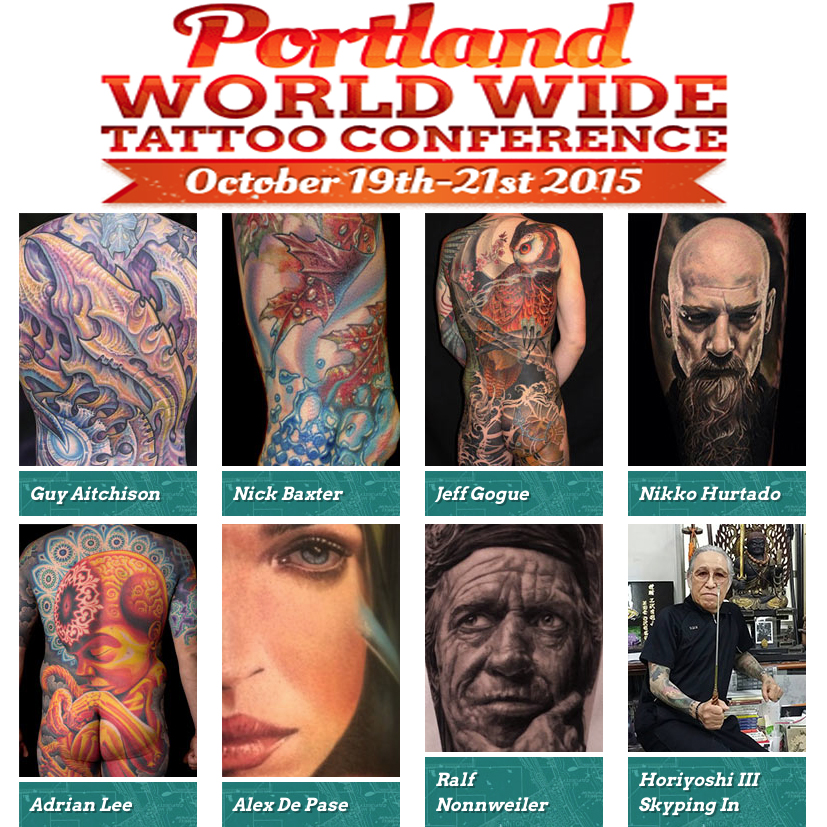 The Worldwide Tattoo Conference has always been one of the more unique events in tattooing, with the entire focus being on educational seminars rather than squeezing them in around a lot of tattooing and contests. I've enjoyed teaching at these events because the audience tends to be made almost entirely of intelligent, open-minded artists who are there to learn and network. So I'm psyched about this upcoming WWTC in Portland, Oregon October 19, 20 and 21. I'll be teaching alongside some of my favorite tattooists in the industry including Nick Baxter, Jeff Gogue, Nikko Hurtado, Adrian Lee, Alex De Pase and Ralf Nonnweiler... Even the great Horiyoshi III will be skyping in!
Here's a short interview that I just finished with the WWTC promoters:
WWTC: How do you feel the new wave of educational seminars have affected the tattoo at large?
G: I think it's clear that the high level the tattoo art form has reached has a lot to do with the sharing of information that's been happening in the tattoo community, a tradition which began at the conventions and still remains centered at tattoo related events.
WWTC: What do you love the most about Tattooing?
G: It's hard to define what I think makes tattooing so great... I was drawn to it as if to a powerful magnet at a young age and the interest only deepens as I spend more time with it. I think that some people are just fortunate enough to find that thing which fits them perfectly, and I am certainly one of those people.
WWTC: Do you feel anyone can be a great tattooer like you? What are the essential ingredients to being a great tattooer?
G: If tattooing fits you perfectly then you'll create work that fits others just as well. It will take time, dedication and hard work to find your groove. Remember that what you do matters, and that you are affecting the lives of others. Finish every tattoo as if it were on your own skin, with care and attention to detail. Your clients will notice the difference.
WWTC: What will people learn from you at the WWTC?
G: This October I'm focusing specifically on coverup tattooing, taking an updated look at the possibilities and limitations, with plenty of step-by-step photos and up close video footage of the machine in action. I'll be getting into great technical detail about my very nuanced approach to hiding old work without making a new piece that's obviously a coverup.
You can get more information, and order tickets, at the Products page at TattooEducation.com. I hope to see you there!