November 2, 2015
Announcing The Beta Phase of the Reinventing The Tattoo Electronic Edition!


Ever since the second edition of my flagship educational package Reinventing The Tattoo was released, I've daydreamed about making an electronic edition which could be updated to keep up with the rapid pace of change in our industry. It's been a long time in the making, but we now have the beta edition of the Reinventing e-book available, and I couldn't be more excited! For starters, it's given me a chance to go back through the entire text and rewrite parts of it to reflect our current understandings of tattooing, plus it was a chance to get the Photoshop chapters current and talk about the changes happening with equipment. But that's just the tip of the iceberg. This new edition is subscription based, with the goal of adding new content regularly so that your Reinventing experience is constantly evolving and can be customized to your path as a developing artist. The current version offers:

> Updated chapters from the original book
> Instant access to all supporting video material
> New chapters from guest writers Nick Baxter, Russ Abbott and Megan Jean Morris
> Handy format that adapts to any device and works well on your phone
> Access to new forums focused on critiquing

As we get into full swing over coming months, we will continue to refine and build the curriculum and the interface to include such things as:

> Text or email notifications of new material
> Smoother and more intuitive interface
> Special version focused on apprenticeships
> New tutorials including an acrylic painting workshop and an updated look at coverup tattooing
> Additional guest chapters from many of your favorite artists!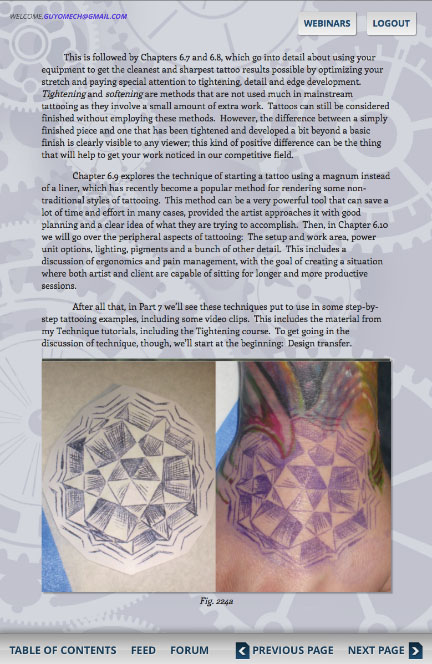 During the beta phase, we are offering a special one-time discount to subscribers with the understanding that you will be helping us to make the Reinventing educational experience as perfect as possible. That includes not only helping us find small glitches in the format, but also to give us your suggestions about what you'd like to see added to the experience. There's already more to offer than the classic book/DVD package (which is now out of print) ever had, so hop on board and be part of the group of professionals that helps us make the transition into the new dynamic electronic format! Special pricing will only be in effect for a few more weeks. You can subscribe now at the Tattoo Education online store.