December 9, 2015
Guaranteed Christmas Shipping on all US Orders Placed by Dec.16!

Are you tired of holiday shopping yet? I'm writing to hopefully make your job a little easier, because at Tattoo Education we have a ton of great books, DVDs and other items that make perfect gifts for both artists and art enthusiasts. There's still about a week or so before the Christmas shipping cutoff date, so I wanted to run through a few of the things that we have available that might just fit the bill.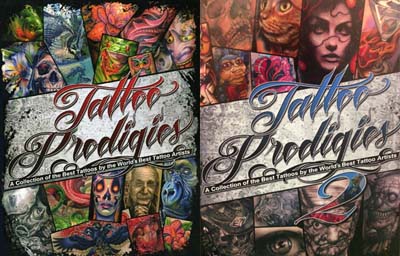 Whether you are an artist or collector, the Tattoo Prodigies books stand out as being some of the most comprehensive and detailed summaries of what is being done in tattooing today, with the in-depth interviews and countless stunning photos of cutting-edge tattoo work... imagine these heavy volumes on the coffee table between the fruitcake and the glug, fire crackling in the fireplace... you get the picture.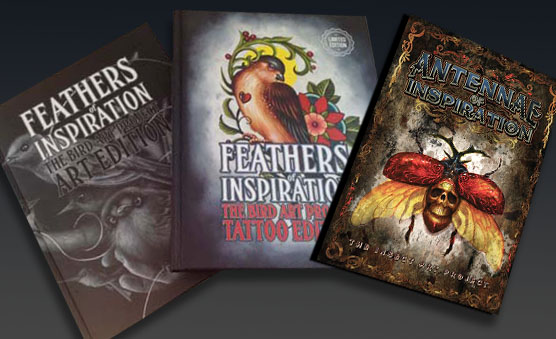 We have quite a few great anthology books, with the Prodigies series being just the beginning. The Inspiration series from Out Of Step publishing are focused on particular themes; for example, Feathers Of Inspiration is all centered around bird themes, and crosses the boundaries of multiple different media in a collection so epic that it took two volumes to fit it all. We also have the insect-themed Antennae Of Inspiration, with an eye-popping collection of work from artists both well-established and up-and-coming.

Then we have a few very unique books from artists who focus on their own particular styles. Shawn Barber's Memoir is a book of oil paintings of tattooed people, done in Shawn's distinct loose-yet-lifelike painting technique. I've always been amazed at the life, energy and convincing depictions of people that Shawn does, and his sense for the pulse of the tattoo community is peerless. Another tattooist with a prodigious painting output is Chris Dingwell, whose slim paperback volume Inside Out is nothing short of a crazy wild ride down a bumpy hill of hallucinogenic visions. We've also got Michele Wortman's timeless photography book Moments Of Epiphany, a visual space so distinct that it actually comes with its own soundtrack. Then there's The Art Of The Leu Family, detailing the work of the close family of iconic Swiss tattooist Filip Leu, including some of Filip's mind-bending work on canvas.
That's just the tip of the iceberg. We are proud of our high-quality selection of art and education books & DVDs, and would like to invite you to check out the online store at TattooEducation.com and see what other gift possibilities we have.