April 19, 2016
Now Available: Enchanted, A Great Fantasy Anthology!

We've always been excited about new releases from Out Of Step Publishing, who search deep within the tattoo community to create fun, visually rich books based on a variety of subject matter, including Antennae Of Inspiration, which explores the insect/bug theme; Excavate: Unearthing Artistic Skeletal Remains, a thick volume dedicated to skeletal motifs; and Feathers Of Inspiration, a bird-based anthology that became so massive that it had to be split into two volumes. Their latest edition, Enchanted, does not disappoint: bound in a beautiful large-format limited storybook edition, with 366 pages of tattooing and other artwork exploring themes of fantasy, fairy tales and other whimsical works of the imagination, done by over 500 different artists from all corners of the tattoo community. It's a perfect addition to your book collection... available now at our online store.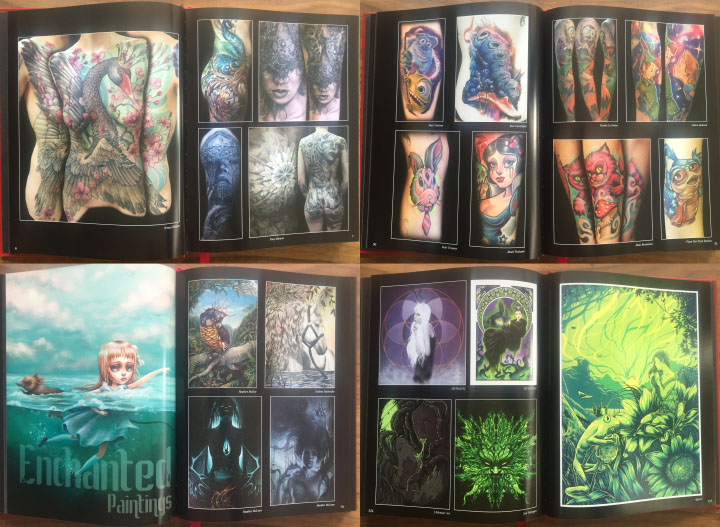 I also wanted to mention that this is the last call for the introductory pricing we are offering for the Reinventing The Tattoo electronic edition. I'm just about done with the massive section on coverup tattooing that I'll be adding to the curriculum, which includes a video tutorial that will retail for $80 for non-subscribers, but is included free for anyone with a subscription. Only subscribers will get access to the extensive chapters that discuss coverup tattoo projects, large and small, along with a detailed chapter about the laser with an extensive FAQ for both artists and collectors, plus a long chapter about scar coverups, discussing many kinds of scars and the realities of tattooing them. Those receiving the discount will still get all the benefits after the price goes up. I've been working hard to produce a steady stream of new material for the Reinventing app; come by ReinventingTheTattoo.com to get a better idea of what we are offering.