June 22, 2016
New Ask Guy Critique Column on Newsstands Now!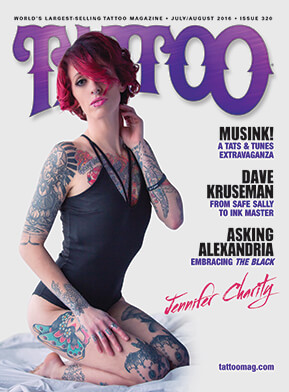 Every month, I'm given the chance to do a critique of another tattooist's work for Tattoo Magazine, which allows me to go very in-depth in critiquing a single major tattoo piece. I use Photoshop to make an enhanced version of the original piece, making it much easier for readers to visualize what I'm talking about. This month, my column features a black and grey piece by artist Damion Cressy, and I had a lot of fun demonstrating different approaches to using positive/negative relationships to create the right mood while still keeping the piece clear and readable. You can see this month's critique in Tattoo Magazine Issue #320, on newsstands now! You can also check it out, along with all my past Ask Guy columns, in the Ask Guy archive at www.tattooeducation.com.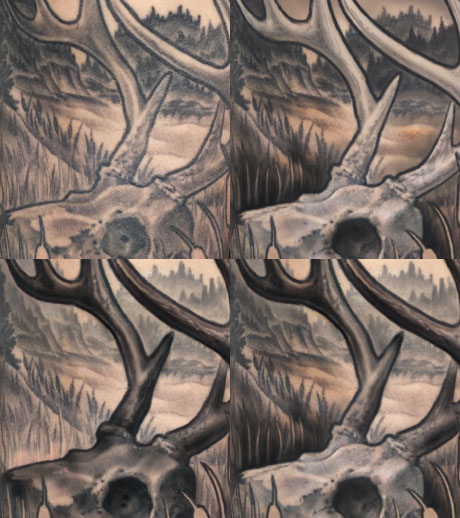 I also wanted to remind you that the electronic edition of Reinventing The Tattoo now has a comprehensive guide to coverup tattooing added to it. This includes a detailed video, over an hour and 45 minutes long, which uses both step-by-step photos and closeup video to demonstrate a variety of coverup tricks that any tattooist can benefit from learning. In addition to the video we've got chapters showing additional coverup examples, along with a discussion of the laser- including a useful laser FAQ that you can share with your clientele- and some examples of scar coverup projects. All this material is included alongside the core Reinventing curriculum, which you can read about in the Reinventing description page. Subscribers will be treated to new material being added regularly, not only by myself but by a variety of renowned artists from all corners of the tattoo industry. For professionals only, or apprentices working with experienced professionals.