September 16, 2016
Reinventing The Tattoo Guest Writer Phil Garcia!


One of the most exciting things about the new electronic edition of my educational package Reinventing The Tattoo is the participation of a variety of guest writers who all excel at different styles and subjects in tattooing. So far this year we have added chapters by Russ Abbott, Nick Baxter, Megan Jean Morris, Halo Jankowski and Don McDonald on subjects ranging from color theory to client relations to large format stenciling. These writers are allowing us to expand the Reinventing curriculum to encompass the interests of the entire tattoo industry, making it potentially useful to almost anyone, regardless of style or level of experience.
So we are particularly jazzed about adding the chapter by Phil Garcia, who many of you know as being the artist who has completely redefined the rose tattoo and brought it to a new artistic level. Phil's roses are not only realistic, but perfectly proportioned to the body part, bold and clear, with just the right exaggerations to make it read nicely on the skin and hold up to aging. In his new chapter, Attention To Detail, Phil spells out his process in a concise step-by-step format with in-depth discussion of some of the things that he considers to be the most important aspects of his technique.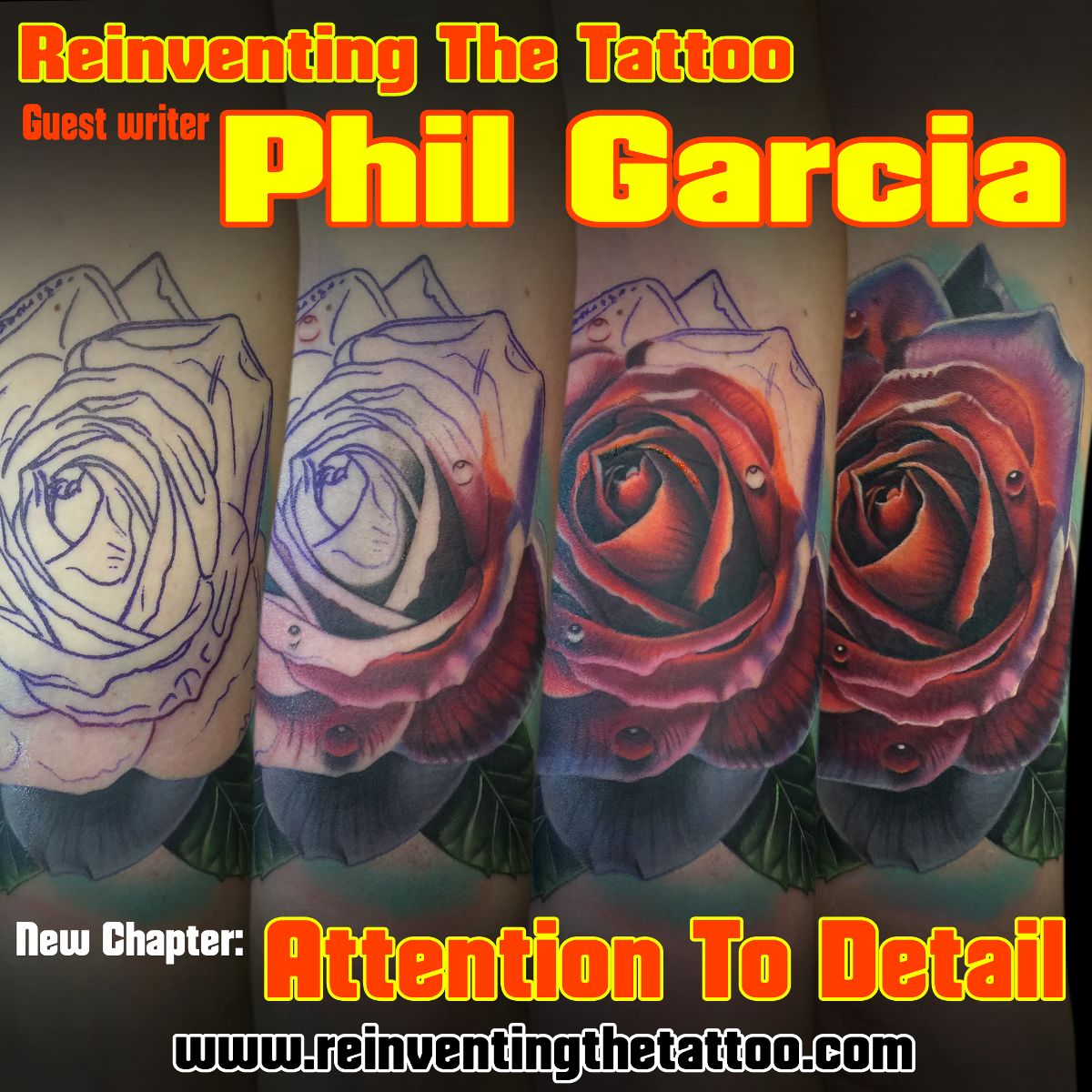 There are several more guest contributions in the works at this moment, which Reinventing The Tattoo subscribers can look forward to seeing added to the content over coming months, along with upcoming expansions to the coverup chapters along with countless other improvements. Reinventing is not just an e-book, but is a dynamic educational experience that is continually evolving to fit the needs of today's tattoo professional. You can take a look at our new video promotion to see the Reinventing The Tattoo electronic edition in action.