March 6, 2017
ITEM OF THE WEEK: Tattoo World
This Week Only (March 6 - March 12)
'Tattoo World'
is the Featured Item this week.
Order this item and get FREE SHIPPING!!
(FREE SHIPPING to US orders only. Shipping to Canada is $30.00 and anywhere else is $45.00.
Order more items and get the shipping special on your WHOLE order!!
Any additional shipping charges will be refunded when order is filled)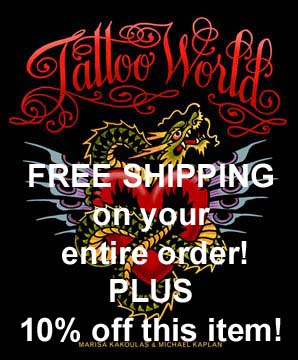 Tattoo World by Marisa Kakoulas: $35 - Sale $31.50
Once considered part of the counterculture movement, tattooing is now undoubtedly a mainstream practice. Although the history of tattooing is rooted in ancient customs and beliefs, it is a constantly evolving art form, as skilled practitioners continually reinterpret traditional motifs and experiment with new ones. With more than 1,000 illustrations from 125 of the most important artists working today, this book is the most comprehensive survey of tattooing ever published. Collected here are designs from around the globe, spanning a broad range of styles, including Japanese and East Asian iconography, classic Americana, and photorealism, among others. Featuring the work of tattoo legends alongside pieces by pioneering artists pushing the limits of the medium, this visually arresting survey is the essential reference work for anyone interested in this exploding art form.