March 20, 2017
ITEM OF THE WEEK: 'Inside Out' by Chris Dingwell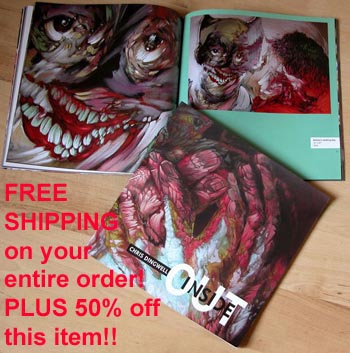 This Week Only (March 20 - March 26)
'Inside Out' by Chris Dingwell
is the Featured Item this week.
Order this item and get FREE SHIPPING!!
PLUS - 50% off the price of the item!!
(FREE SHIPPING to US orders only. Shipping to Canada is $30.00 and anywhere else is $45.00.
Order more items and get the shipping special on your WHOLE order!!
Any additional shipping charges will be refunded when order is filled)
'Inside Out' by Chris Dingwell: $40 - Sale $20
"Painting in the tattoo world is not exactly a new thing, but tattoo people painting with the excellence that rivals the world's fine artists is." Johnny Thief on Chris Dingwell
Chris Dingwell is a respected and accomplished tattoo artist and fine painter, from the grotesque to the sublime this books chronicles the last 8 years of his painting career. His style is all his own and yet clearly he draws on technical skills that he has been honing for a life time, his work is alive, vibrant and engrossing and anyone who collects art, knows art, or studies art will get something of value out of this book. Each page draws the viewer into a world that is a bit surreal, sometimes chaotic but always visually mesmerizing. A perfect item to round out your art book collection. 10x10", approx. 150 pages