March 27, 2017
ITEM OF THE WEEK - DVD Combo!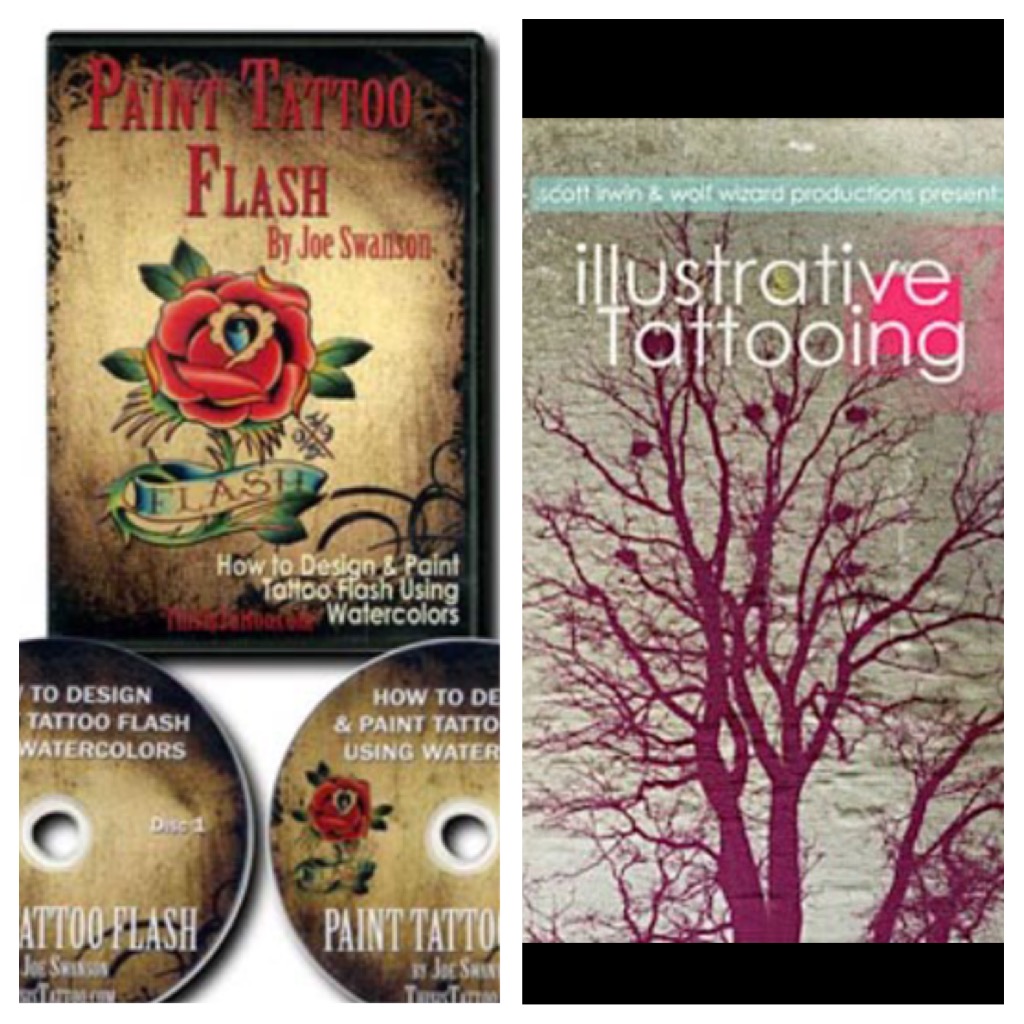 This Week Only (March 27 - April 2)
Paint Tattoo Flash DVD - by Joe Swanson
& Illustrative Tattooing by Scott Irwin *COMBO*
is the Featured Item this week.
Order this item and get FREE SHIPPING!!
Save $21 when buying the Combo!!
(FREE SHIPPING to US orders only. Shipping to Canada is $7.00 and anywhere else is $12.00.
Order more items and get the shipping special on your WHOLE order!!
Any additional shipping charges will be refunded when order is filled)
Paint Tattoo Flash DVD - by Joe Swanson
2 DVDs plus booklet, over 2 hours running time

This course, made by veteran tattooer Joe Swanson, will take you step-by-step through the entire painting process. Learn what materials to use, how to tint your paper to give it a vintage look, how to use an age old technique called spit-shading to give your flash that unique tattoo look, plus tons of other useful techniques. The entire course is comprised of 8 sessions. High Quality picture-in-picture feature in videos 4, 5, 6, and 7 so you can easily see all the detailed shading technique instruction from different angles. This feature makes it so you don't miss a thing. Over 2 hours of total run time.
&
Illustrative Tattooing - by Scott Irwin
One thing that all illustrative styles seem to share is a rich language of narrative elements that can be drawn and tattooed in a variety of visually interesting ways. Scott Irwin's Illustrative Tattooing DVD is a great guide to approaching illustrative rendering on skin. It's a clever production that's jam-packed with information, including detailed and insightful looks into the execution of several different tattoos of different subject matter. It's a high quality production with a tight, well-lit view of each piece being done including a camera on the palette to show how he achieves his subtle color mixes. Each tattoo is edited to 30-45 minutes to show all the most critical parts, with Scott's voiceover describing exactly what's going on. There is also a bonus section showing his methods for setup and preparation, including some very clever tricks and ideas.