May 22, 2017
TATTOO EXHIBITION Extended & Item of the Week!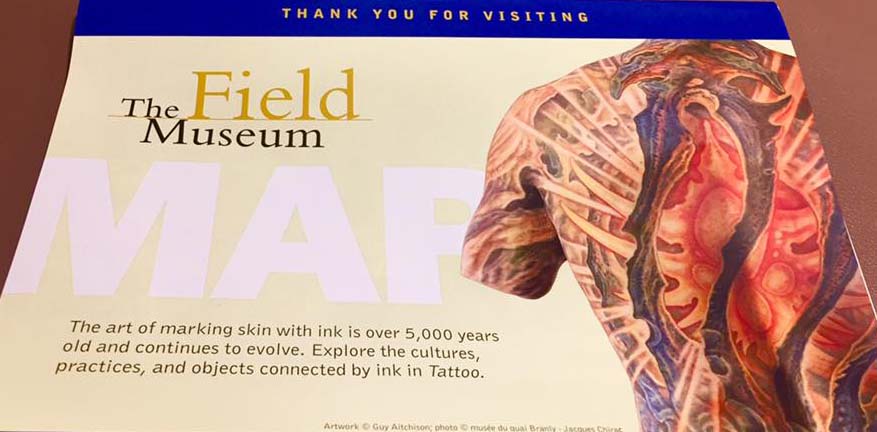 Some of you may remember the historic tattoo exhibit at the Chicago Field Museum, where Guy was given the opportunity to showcase a backpiece design, complete with an impressive 3-minute documentary filmed by the Field Museum crew. Due to popular demand, this exhibit has been extended until this fall! If you are in the Chicago area or are planning on traveling there this year, we highly recommend dropping by the museum to check out this unprecedented exhibit showing not only historic objects and images from around the world, but also a comprehensive feature of contemporary artists' work on skin and canvas. You can check out a gallery of images from the exhibit on our Facebook page.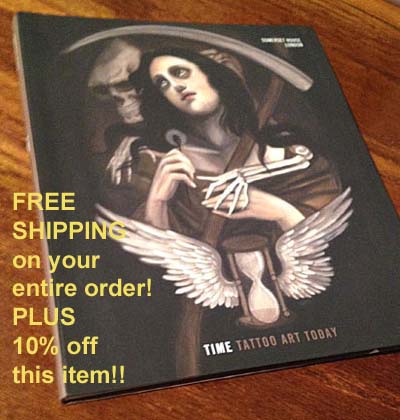 Speaking of tattoo exhibits, we have a unique book in stock that was printed alongside a tattoo exhibition in London in 2014. It features paintings and works in other media by an international cast of some of the biggest names in the industry, including one of Guy's most significant paintings for that year. Time: Tattoo Art Today is our featured item this week.
This Week Only (May 22 - May 28)
'Time: Tattoo Art Today'
is the Featured Item this week.
Order this item and get FREE SHIPPING
PLUS 10% OFF This Item!!
(FREE SHIPPING to US orders only. Shipping to Canada is $20.00 and anywhere else is $35.00.
Order more items and get the shipping special on your WHOLE order!!
Any additional shipping charges will be refunded when order is filled)


Time: Tattoo Art Today - Softcover 144 pages $50 - Sale $45
Over the summer of 2014, Guy Aitchison had a painting hanging in the Somerset House in the UK, along with pieces by such amazing artists as Filip Leu, Titine Leu, Horiyoshi III, Don Ed Hardy, Shawn Barber, Timothy Hoyer, Grime, Paul Booth, Chris Garver, Robert Hernandez, Marcus Pacheco, Jeff Gogue, Sabine Gaffon, Nick Baxter, Eddy Deutsche, Joe Capobianco, Bugs, Ichibay, Nikko Hurtado and Ami James. We have managed to secure a limited amount of the catalogs from the show, which come in the form of a large-format 144 page softcover art book. It's a thought provoking and beautiful art collection centered on the theme of Time, in a rich variety of artistic styles.