September 18, 2017
4 Day Sale - 30% off "Keep it Real 3" Plus FREE SHIPPING!!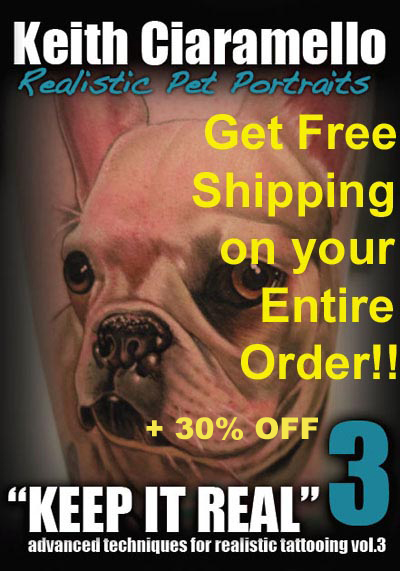 GET 30% OFF Plus FREE SHIPPING! - September 18-21
Our 4 Day featured item this week is, Keith Ciaramello's 'Keep It Real 3' DVD. He offers an insightful glimpse into pet portraiture, which has recently become a popular- and sometimes surprisingly striking- tattoo motif. In Keith's approach you can see how his foundation in painting and other mediums translates into his painterly approach to handling subtle realistic color on skin. Anyone who orders our Featured Item gets free shipping on their whole order anywhere inside the US, so if you are planning on picking up some books or other heavy items, keep this in mind!
Order this item and get FREE SHIPPING on your entire order!
(FREE SHIPPING to US orders only. Shipping to Canada is $7.00 and anywhere else is $12.00.
Order more items and get the shipping special on your WHOLE order!!
Any additional shipping charges will be refunded when order is filled)