October 30, 2017
Halloween Combo!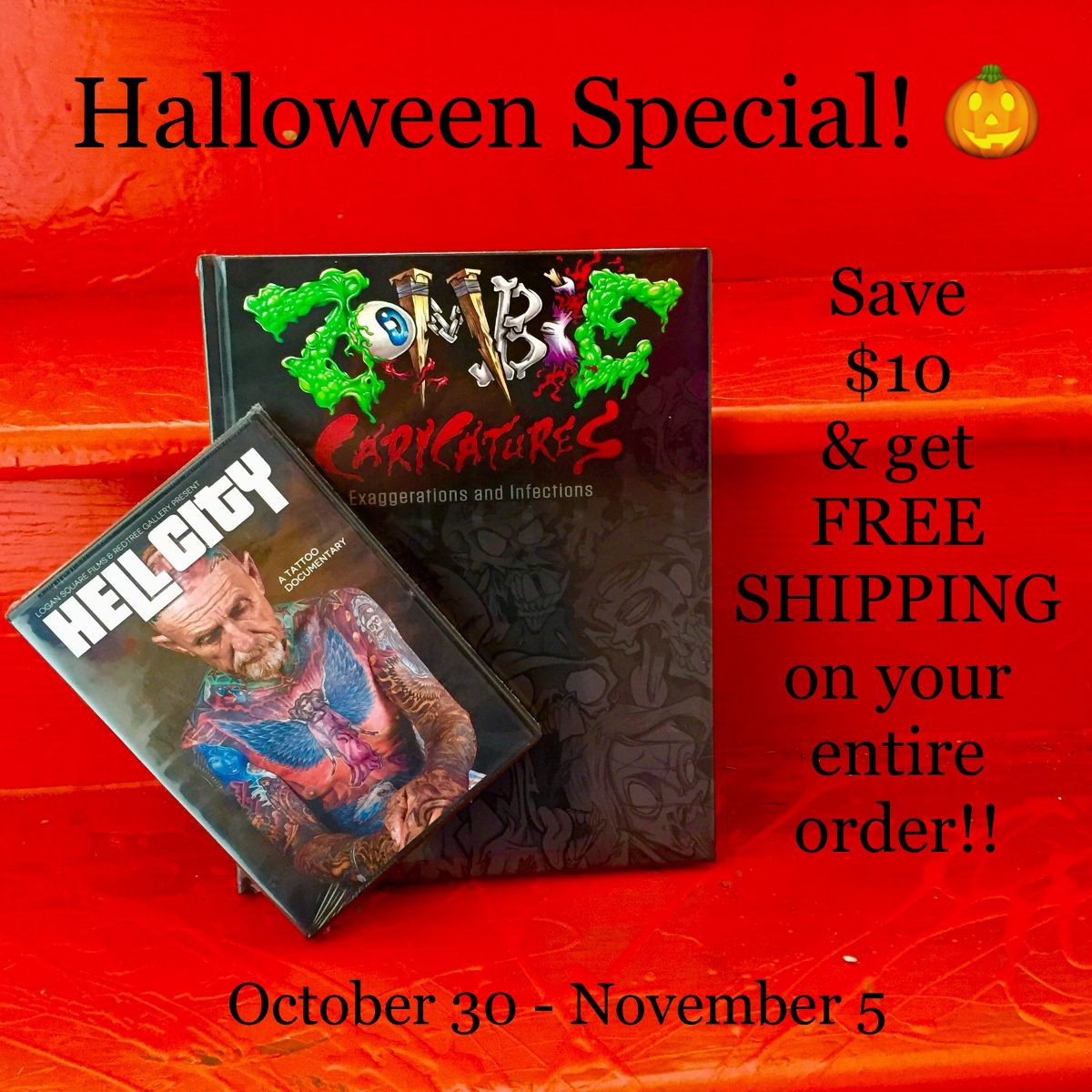 This Week Only (October 30 - November 5)
Save $10 when you order the
Halloween Special!
Includes the book: Zombie Caricatures
& the DVD: Hell City
Order this Combo and get FREE SHIPPING!!
(FREE SHIPPING to US orders only. Shipping to Canada is $30.00 and anywhere else is $45.00.
Order more items and get the shipping special on your WHOLE order!!
Any additional shipping charges will be refunded when order is filled)
Zombie Caricatures: Infections and Exaggerations
Hardcover 160 Full Color Pages 8.5 x 11
The content of this book showcases the work of some of the best caricature artists in the world. Sean Gardner and Nick Mitchell have managed to take something that is super difficult and make it look effortless. It takes a different type of artist to be able to pull off a great caricature. Not only do you have to capture the likeness of each victim, but you also have to figure out what it is that makes them unique and stand out in their own way. Then, you have to figure out a way to bend those unique features as far as you can without losing the essence of what makes that individual who they are.
Nick and Sean have not only managed to tweak the hell out of every person they draw and keep their likeness, but they do it while simultaneously throwing axes through their heads, lacerating their jugulars, and slinging blood all over the place. This book also includes some tutorials on how they do it!
Also includes:
Hell City: The Movie
A film by Russell Dornhecker
Approx: 1 hour 15 minutes

Many of you probably know Durb Morrison because of his spectacular Hell City Tattoo Fest, which is held twice every year in Columbus, OH and Phoenix, AZ. Hell City has long been one of America's most stand-out conventions. It's packed with all kinds of events and features, but its foundation has always been built on the high skill level of the artists who work at the show- Durb personally screens the portfolios of all artists applying to work there.

After 7 years of filming, Durb's friend Russell Dornhecker has released a documentary about the Hell City Tattoo Fest. It's a visual feast featuring the tattoo artists, collectors, performers, painters, showmen and downright characters that populate the Hell City Fest. Whether you've had a chance to attend the festival or not, you'll be entertained by this powerhouse film.