November 13, 2017
Special Keith Ciaramello & Guy Aitchison Postcard Combo!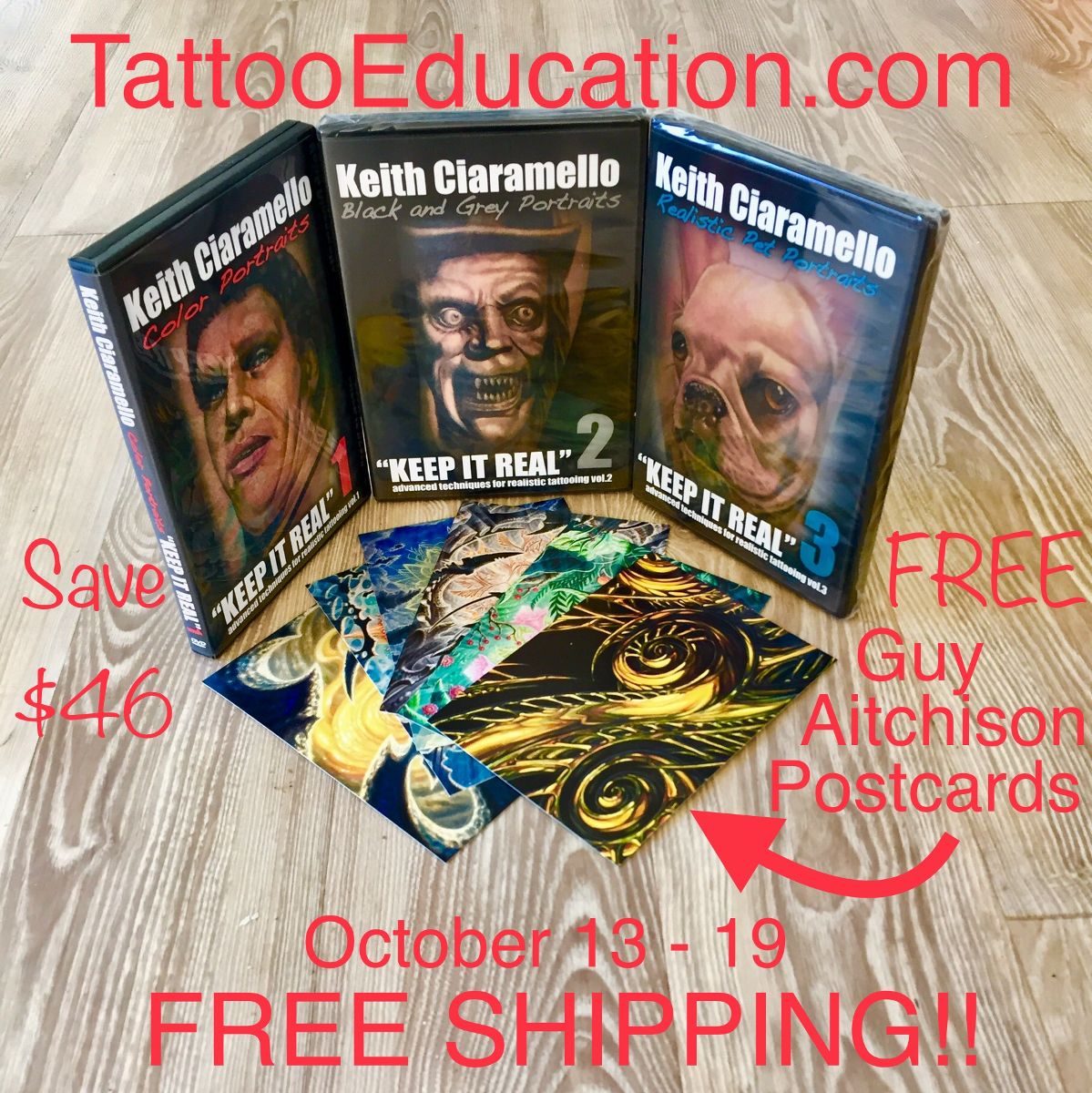 This Week Only (October 13-19)
'Keith Ciaramello's KEEP IT REAL Combo Pack'
is the Featured Item this week.
Order this item and get FREE SHIPPING, a $46 discount
& Guy Aitchison's 6 Piece Postcard Set!!
(FREE SHIPPING to US orders only. Shipping to Canada is $20.00 and anywhere else is $35.00.
Order more items and get the shipping special on your WHOLE order!!
Any additional shipping charges will be refunded when order is filled)
Keith Ciaramello's Keep It Real Volume 1,2&3 combo pack
7 DVDs 13+ hours $199.00 (Save $46.00!)
In Keep It Real Volume 1, Award winning artist Keith Ciaramello takes you through the process of tattooing a color portrait of "The Eighth Wonder of the World" Andre the Giant! Topics covered include; choosing reference, enhancing reference in Adobe Photoshop, making the stencil, stencil application, flesh-tones, color mixing, needles, inks, using the Neuma Hybrid and much more. Keith has added a third BONUS DVD of his live seminar lecture. This is over 5 hours on 3 discs! The techniques discussed apply to coil and rotary machines as well.
In Keep it Real Volume 2, Keith picks up where he left off in KIR vol.1 by explaining applied realistic techniques in black and gray. Keith continues to provide the clear, detailed explanations he has become known for, and once again (as in KIR Vol.1) includes his onscreen "Palette Cam" and photo reference throughout the entire process. It's presented almost entirely in real time, and shot with extreme closeups so clear you can count the needles. Find out firsthand why Keith's instructional DVDs receive such positive testimonials from tattoo artists all over the world. If you have any interest in improving your realism techniques, this 4 hour/2 DVD package is an opportunity not to be missed.
In Keep it Real Volume 3, Keith offers an insightful glimpse into pet portraiture, which has recently become a popular- and sometimes surprisingly striking- tattoo motif. In Keith's approach you can see how his foundation in painting and other mediums translates into his painterly approach to handling subtle realistic color on skin. It shows pretty much the entire tattoo process over the course of 4 hours on 2 DVDs, with the whole procedure described in detail. It's meant for tattooists who already have a solid foundation of basic technique and are looking to take their realism work to the next level.