January 8, 2018
This weeks special - Animal Tattoo SUPER Combo!!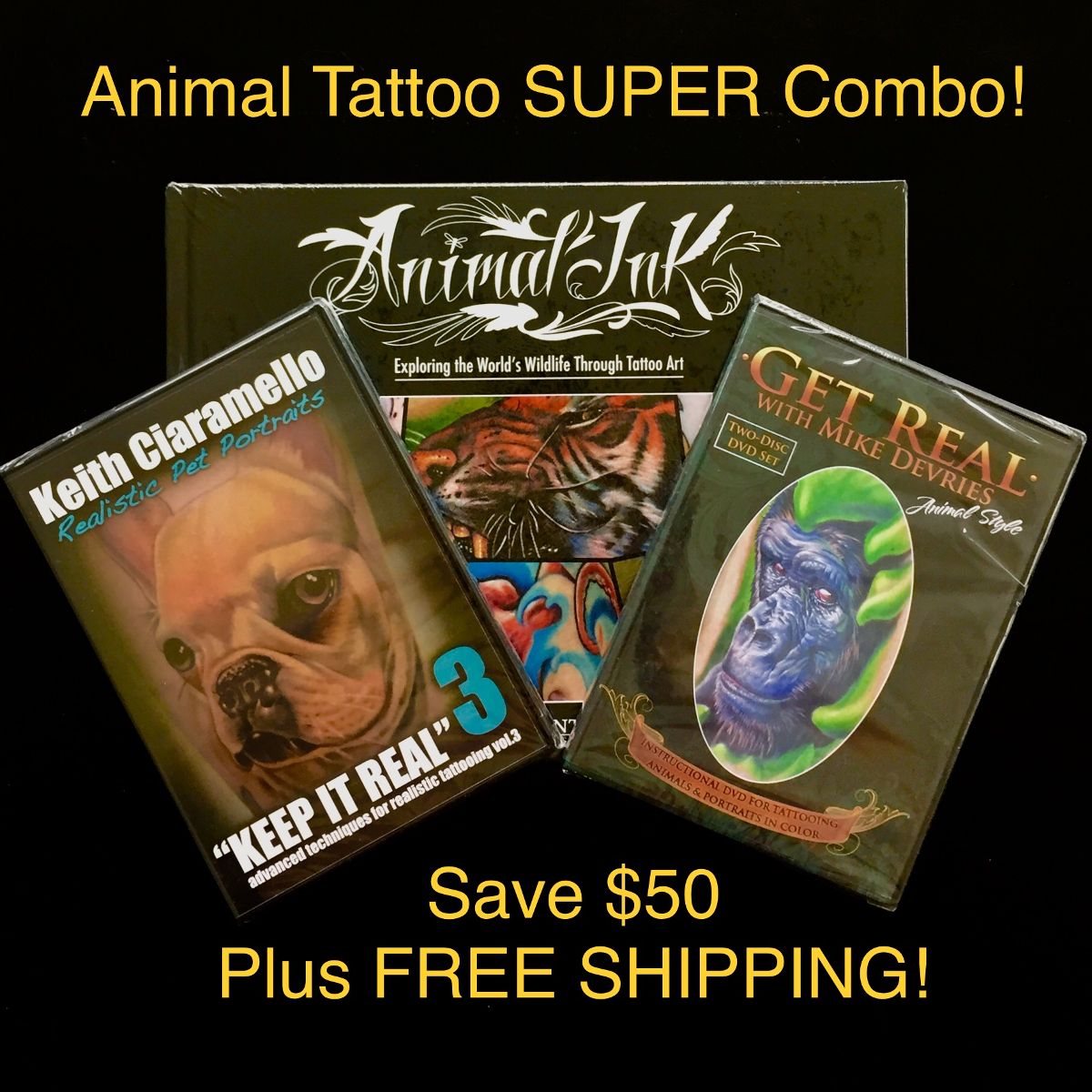 Do you want to step up your game with some great educational materials to make your animal tattoos better? If so, this is the combo for you. You get 3 great titles (1 book & 2 DVDs) for a great price! The combo saves $50 over buying each item individually.
What's inlcluded in the combo:
1. ANIMAL INK
Mike DeVries hardcover book, Animal Ink: Exploring the World's Wildlife Through Tattoo Art, is a feast for the eyes and is brimming with inspiration from some of the world's best tattooists. Featuring 304 full-color pages, this artistic beauty not only contains tattoo work from 160 talented tattoo artists, but in addition includes 62 stories about specific animal tattoos with details, meanings, and inspiration from the collectors who wear the ink and the artists who inked them. If you just want the book, it has been dicounted to $45 this week!
2. Get Real with Mike DeVries: Animal Style
This two-disk DVD set features: higher all-around quality, more camera angles, better music, and essentially real-time editing. The informative instruction covers topics such as: Photoshop techniques to apply to tattooing, placement, stenciling, set-up, machines, needles, my palette and ink choices, color mixing; and most importantly, up-to-date tattooing techniques. In this DVD each step is explaied while being executed, rather than providing voice- overs done at a later time.
3. Keith Ciaramello's Keep It Real 3
This two-disk DVD set offers an insightful glimpse into pet portraiture, which has recently become a popular- and sometimes surprisingly striking- tattoo motif. In Keith's approach you can see how his foundation in painting and other mediums translates into his painterly approach to handling subtle realistic color on skin. It shows pretty much the entire tattoo process over the course of 4 hours on 2 DVDs, with the whole procedure described in detail.
This Week Only (January 8 - January 14)
'Animal Tattoo Super Combo!'
is the Featured Item this week.
Order this item and get FREE SHIPPING!!
(FREE SHIPPING to US orders only.
Order more items and get the shipping special on your WHOLE order!!
Any additional shipping charges will be refunded when order is filled)