April 18, 2012
Immovable: Fudo Myo-o Tattoo Designs By Horitomo
Greetings from Tattoo Education!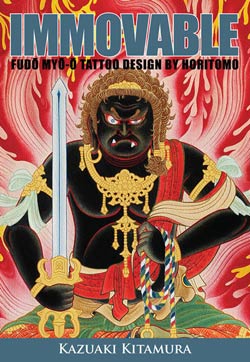 Horitaka's State Of Grace Inc. has published some great new books recently, many which we've been excited to add to the catalog at our online store. Traditional Japanese tattooing has a timeless appeal that has never gone out of style, and we are now blessed to have a few of the great Japanese masters sharing their knowledge with the tattoo community.
Kazuaki Kitamura, also known as Horitomo, has over 20 years of experience doing solid traditional Japanese style tattooing. In "Immovable: Fudo Myo-o Tattoo Designs By Horitomo", he goes into great depth describing and illustrating Fudo Myo-o, one of the great Wisdom Kings in traditional Buddhism. The character of this mythic figure, who is often worn in tattoos as a form of personal protection, is explored in great depth from a variety of angles and positions, including historic information and a detailed study of different weapons, garments and other essentials. Other characters are included, along with a number of dragon and floral designs to accompany them. The images are all line drawings done with masterful ink technique, and can either be adapted directly to stencil-ready tattoo art, or used as a source of inspiration and accurate information when creating your own drawings. Softcover, 9x13", 186 pages... Immovable is available now at our online store.
Thanks, and we'll be in touch soon with more innovative new educational items!