April 23, 2012
Alex De Pase: Tattoo Techniques Applied To Realism DVD
Greetings from Tattoo Education!
Every now and then an artist arrives on the scene whom we can't help but notice. Italian tattooist Alex De Pase began publishing his unusual portraits a few years back, and quickly proved to be one of these stand-out artists; each of his eye-catching portrait pieces that hit the magazine stands has jumped out in terms of originality and technique.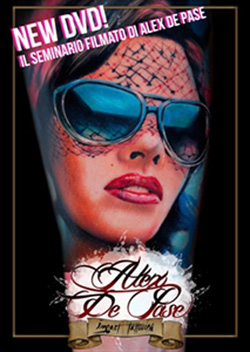 Alex has finally put his unique insight toward producing an educational DVD. Although he is known for his color realism, this seminar could potentially be helpful to any tattooist seeking to broaden their palette of rendering techniques. His approach combines a graphic boldness with a realistic sensitivity that can convey great subtlety and realism while still standing up to the test of time. Available now at our online store!
Speaking of Alex, we just returned from the Worldwide Tattoo Conference in Chicago, co-hosted by De Pase and TattooNOW's Gabe Ripley. It was an incredible two days of learning and inspiration. During the second evening's panel, I announced a new project that we are hosting at Tattoo Education: The Tattoo Longevity Project. You will now find a "Longevity Project" button toward the lower left corner of the screen- click it for a detailed overview of what we are hoping to accomplish and how you can be a part of this important research project. In a nutshell, we are seeking out photos of tattoos that have been in the skin 10 years or more, along with technical information such as which pigments and needle groups were used. The eventual goal will be a number of magazine articles that will hopefully help to clear up any confusion about what works, long-term, in the human epidermis. Drop by the site and check it out!
Thanks, and we hope to see you there!
Guy Aitchison
www.tattooeducation.com
www.hyperspacestudios.com
www.protonpress.com