May 26, 2012
Guy and Michele @ Alex Grey's Chapel of Sacred Mirrors!
Friday, May 18, 2012
Greetings from Tattoo Education!
What motivates people to get tattooed, and what is it that is so compelling they are willing to go back and suffer through more? For those of us in the tattoo world, no explanation is needed, because we each have our own motivations, our own personal relationship with the art. But it can still be great to hear from tattoo fans about their experiences as collectors.
Michele and I have been gathering video interviews from some of our recent clients and will be including this footage and more in a multimedia presentation that we'll be giving at Alex Grey's Chapel of Sacred Mirrors this upcoming July 21. The talk will be titled, The Visionary Tattoo: Empowerment, Healing and Transformation Through Body Art. The presentation will include a historic primer tying the practices of the past to the cutting edge fine art being done on skin today, with a special emphasis on how a tattoo experience can transform the collector's life in a positive way.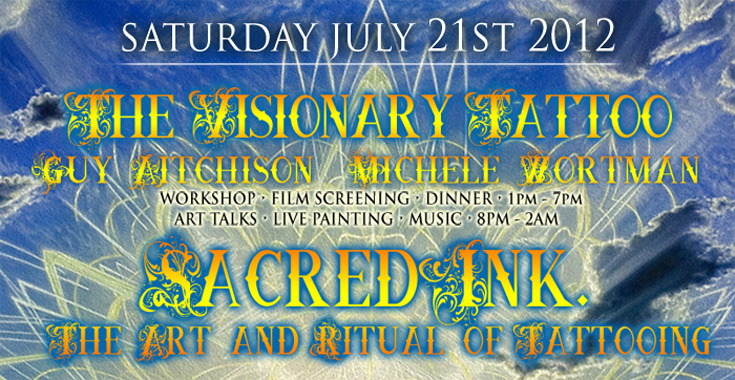 We will also be featuring a screening of Innerstate, a 55 minute documentary about fine art being done by tattoo artists, centered around an event at a major tattoo convention. That evening will be a panel discussion that will include Michele and I, Oregon tattooist James Kern, Boston tattooist Natan Alexander, plus our hosts, Alex and Allyson Grey. This talk will tie in partially to the subject matter of The Visionary Tattoo, but will have a greater emphasis on ritual and sacred practices associated with tattooing. There will be time for questions from the audience.

Finally, running until around 2:00 am will be a live painting performance featuring Michele, me, Alex and Allyson. We've performed together a number of times in the past at places such as Club 740 in Los Angeles and the Moksha art space in Miami, along with a multi-day performance in a tattoo convention. It's an event packed day, and a rare opportunity to experience a celebration of the fusion of tattoos and visionary art at the Grey's legendary gallery, about an hour outside of New York City. A ticket for the whole day is $150, or you can come for the panel and performance only for $25. Tickets are available now at our online store.
Thanks, and we hope to see you there!