August 3, 2012
Humbolt Kush Grip Covers
August 3, 2012
Greetings from Tattoo Education!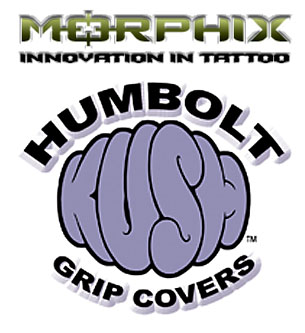 In 23 years of tattooing, I've inevitably had to deal with wrist and hand strain, numbness, and other issues from holding a tattoo machine for such long hours. And of course I've not been alone in this struggle; tattooing is a profession that carries a high risk of wrist, hand and back problems. The solution to this problem turns out to be a multifaceted thing that includes better posture, proper positioning, and a few good stretches now and then, along with an overall better awareness of how you lift and hold heavy objects and things like that. But one of the biggest parts of the solution was to start working with better tube grips.
At the time, back in the late 1990's, tube makers were just starting to experiment with larger diameter grips. These evolved onto curved or tapered grips, along with a number of experimental designs of all kinds of shapes and materials. Recently, Morphix introduced their
Humbolt
and
Flatiron
composite grips, which I personally started using exclusively as soon as they became available; I found that they were just the right weight and shape for my working style.
Finally, just last week, Morphix released their
Humbolt Kush grip covers
, which offer most of the important features of the Humbolt grips but can be slipped over a standard
3/4"
or
1"
tube grip, which is a great advantage for those who prefer the weight of steel grips, or want to improve the comfort of disposable tubes. They are fully autoclavable and offer all the functionality of other popular soft grip covers, with the added advantages of the tested and proven ergonomic Humbolt design. Available now at our
online store
!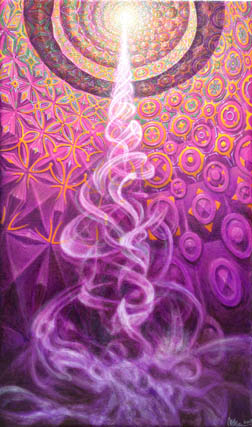 And for those of you in the Los Angeles area, I'd like to remind you of the Second Skin gallery show at the
Copro Nason Gallery
in Santa Monica, CA. Saturday, August 4 is the closing party, so if you haven't been by the gallery yet, this is a great chance to check out this awesome body of work and meet some of the artists involved. Michele and I worked hard to create a pair of paintings that could stand out among this stellar collection of artwork. You can contact
the gallery
for details.
.
Thanks, and we'll be in touch soon!

Guy Aitchison