November 24, 2012
The Very First Guy Aitchison Online Seminar
November 24, 2012
Greetings from Tattoo Education!
Although I have taught many seminars through the years at conventions and other events, it's taken me up until now to finally take advantage of the internet for teaching purposes. So I'm psyched to announce the very first Guy Aitchison online seminar- Guy's Bag Of Tricks: A Full-Spectrum Mini Webinar.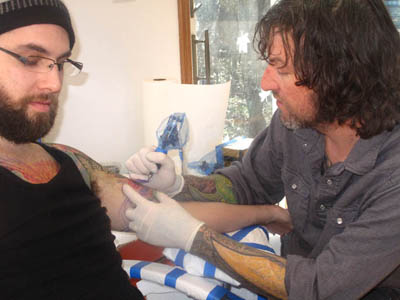 In this seminar I'll be performing a 4-hour arm tattoo, starting with a freehand marker drawing based on a sketchbook study, then moving through all the technical steps, including the use of some of my best tricks and effects. All this will be webcast in closeup detail, including a live voiceover. You can submit questions through the Chat feature which I'll be answering in realtime. It's a great chance to learn about depth, lighting, flow and other design fundamentals, along with the nuts-and-bolts aspects of applying the piece to get a crisp, painterly look in your results. Experience all this for the introductory price of only $199... or sign up before the New Year and get the special Early Bird price of $149! Links and codes will be emailed to all participants 24 hours before the event.
We are also carrying tickets to a spectrum of other online classes including TattooNow's Building A Great Tattoo Business on Dec.2, Tattoo Photography From A-Z with Bill DeMichelle on March 10th, Stefano Alcantara's Realistic Tattooing on March 3, Black and Gray Tattooing with Big Gus on July 7, and Russ Abbott: The Tattooist's Palette, on July 28. We expect this online curriculum to continue growing in the future.
Thanks, and we'll be in touch soon!
Guy Aitchison