November 29, 2012
Bez: Design Thru Chaos DVD
November 29, 2012
Greetings from Tattoo Education!

It's common knowledge that tattooing technique has expanded greatly in recent years, far beyond what was possible only a decade ago. This has been made possible partially because of all the communication happening between artists these days in the form of seminars, books, DVDs and simply a more open environment in the industry, allowing information to pass from artist to artist far more freely than it could in the past. But technique is not the whole picture: The ability to create stunning innovative new designs has been a massively important part of this evolution.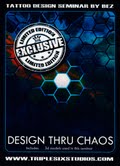 Some of you may be familiar with the U.K's Bez, who exploded onto the scene a few years ago with his distinctly 21st century approach to design and technique. Bez's striking tattoo work didn't become that way by accident: He goes well out of his way to try working with new tools and methods in creating his designs in order to explore new visual language which can then be applied to skin using modern techniques. In his new DVD, Design Thru Chaos, Bez demonstrates some of his best techniques for exploring new design possibilities. By making full use of the 3D capabilities of Photoshop CS Extended, he shows how ideas can be auditioned and manipulated in a digital format to visualize countless possible variations on any idea, quickly generating multitudes of ideas in relatively little time.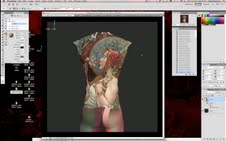 His approach is totally new and without precedent in the tattoo field, and could very well be a sign of things to come as the tattoo art form continues to evolve. Not only is this DVD informative and inspiring, but also includes a number of highly useful 3D templates that you can use directly as part of your design toolbox. Design Thru Chaos is not a DVD seminar aimed at teaching you how to tattoo, but a seminar on methods to help you think outside the box when it comes to planning your tattoos. It's presented in screen-capture format with an informative voiceover, and shows an incredible array of tricks that you can put to use immediately in expanding your vocabulary when designing for skin.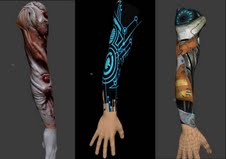 Step into a truly modern approach to design... Available now at our online store!


Thanks, and we'll be in touch soon-

Guy Aitchison

www.tattooeducation.com
www.hyperspacestudios.com
www.protonpress.com