January 12, 2013
Guy's Bag Of Tricks
January 12, 2013
Greetings from Tattoo Education!
I'm psyched about the upcoming
webinar
I'm giving on the 20th of this month. Although I've taught countless seminars ranging from 2 hour presentations to 2 day long intensives, I've never had the opportunity to give an online seminar. We now have access to the resources to produce high quality online classes, and this first one will be a chance to teach a class in a way that isn't possible with traditional workshops.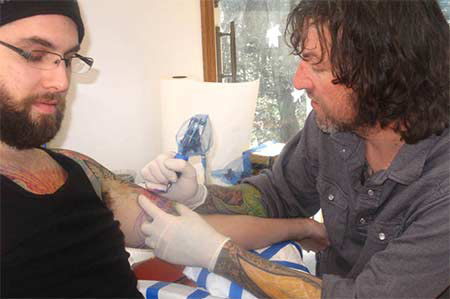 On Sunday, Jan. 20th at 2:00PM central time I'll be presenting Guy's Bag Of Tricks: A Full-Spectrum Mini Webinar, where I'll be performing a four hour arm tattoo. It'll be an example of making the most out of a limited and oddly shaped area of skin. I'll be using references and adding my own elements, then using a variety of textures and effects when rendering the piece. We'll have a camera closeup on the piece the whole time, with a second camera showing what's happening over at the palette and rinse cups, since I do a lot of mixing and blending by working the palette like a painter. These close camera views will provide the chance to discuss all aspects of tattoo application in detail.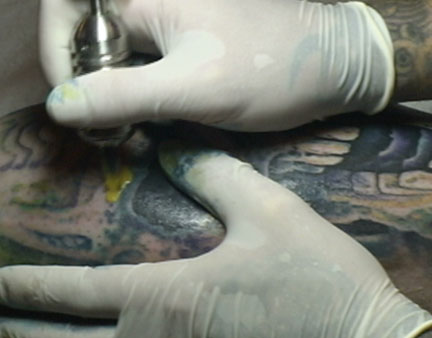 Meanwhile, Gabe Ripley of
TattooNow
will be sitting by and following the chat page we'll have for that afternoon, where participants can type in questions that he will read off for me to answer while I'm working. This way we can go into detail about the questions that are important to you.
Thanks, and we'll be in touch soon-
Guy Aitchison