March 1, 2013
Announcing Michele Wortman's new website!
Greetings from Hyperspacestudios and Tattoo Education,
Michele has developed a distinct look in tattooing over the past decade. Her etherial flora-form body work is geared toward a female clientele and has become Michele's defining style. The new site includes brand-new galleries featuring some of her latest work, along with a link for enquiring about appointments.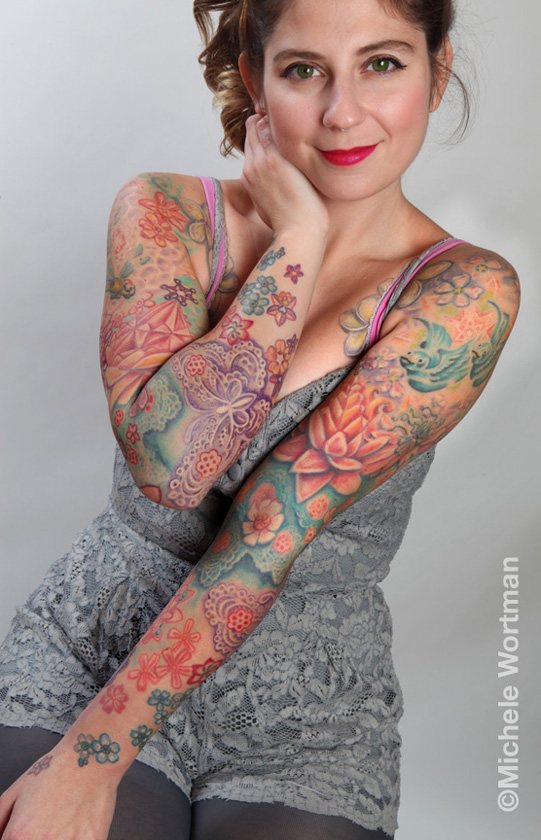 While your'e at the site, you can take a look at the painting gallery, read about what motivates Michele, and see what she's currently working on. Be sure to check out the Zenscape project.
Zenscape 3, 2012
Michele has been taking photographs as a source of inspiration for quite some time. You may be familiar with a collection of photographs released on Proton Press in 2005, the limited edition book Moments of Epiphany, with a forward by fellow visionaries Alex and Allyson Grey. We still have a few copies left at our online store if you'd like to add it to your art book collection. The new site also has galleries showing some of her favorite recent photo work.
Spring Lilacs, 2012
In addition, there is a new gallery of highlights from her collection of figurative drawings dating back as far as 1989. Michele has a great love and appreciation for drawing the figure, and feels that it has been a pivotal influence with her compositional development in her tattoo style.
Paradise Artists Retreat, 2010
Have you ever heard Sunchannel? This is Michele's electronic music project. Check out the videos, produced by partner Guy Aitchison, of her latest DVD release West of East. Read about how she got started writing music, along with an interview by Guy. You can hear more full-length tracks from Sunchannel and other artists at Proton Press.
We want to thank Gabe Ripley and the staff at TattooNow for all their efforts in making this happen.
Thanks for taking a look, and we'll be in touch soon!