May 8, 2013
New Educational DVD: The Worldwide Tattoo Conference Sampler
May 9, 2013
Greetings from Tattoo Education!
Although tattoo conventions have been hosting seminars and workshops for almost two decades now, we are starting to see more and more events which place education front and center. Some of the gatherings hosted by
TattooNow
, in particular, are strongly focused on learning. The
Paradise Tattoo Gathering
,
Paradise Artist Retreat
and the
Worldwide Tattoo Conference
are events that are built around the curriculum being offered by some of tattooing's top-tier educators, and the response from attending artists has been extremely positive.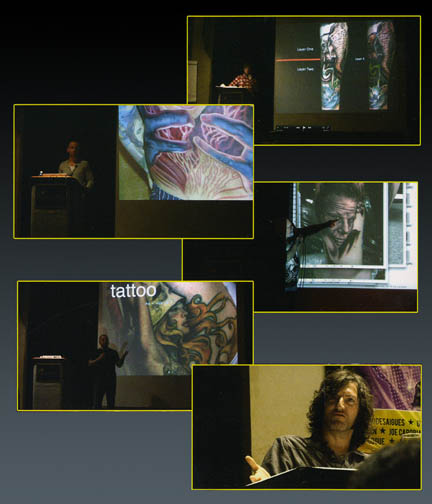 I attended the
Chicago WWTC
last Spring and was impressed by its no-nonsense educational schedule. Guests were subjected to two solid days of high powered learning from instructors such as
Bob Tyrrell
,
Nick Baxter
,
Jeff Gogue
,
Boris Lazslo
,
Alex De Pase
and myself; many left the event with their heads so filled with new ideas that they are still processing it all nearly a year later. Thankfully TattooNow have produced a
WWTC sampler DVD
, showing highlights from these great seminars, along with selections from the panel discussions. It's an hour and fifteen minutes of concentrated high quality information... available now at
our online store
!
TattooNow has produced another DVD of similar informational content, with two and a half hours of uncensored group discussion between some of the world's leading tattooers, called
Keeping Sharp: Expert Advice From Leading Tattooers
. We're now offering Keeping Sharp and the Worldwide Tattoo Conference DVD as a
discounted package deal
. These two disks are different but very complimentary, and are a must for any tattoo studio library.