May 22, 2013
New Documentary Out: Hell City, The Movie!
May 22, 2013
Greetings from Tattoo Education!
We've known Durb Morrison for quite a while now. Durb does great tattoos and has some excellent products that he's pioneered, such as True Tubes and ErgoSquish tubes, which we carry at the TattooEducation store. But most of you probably know Durb because of his spectacular Hell City Tattoo Fest, which is held twice every year in Columbus, OH and Phoenix, AZ. Hell City has long been one of America's most stand-out conventions. It's packed with all kinds of events and features, but its foundation has always been built on the high skill level of the artists who work at the show- Durb personally screens the portfolios of all artists applying to work there.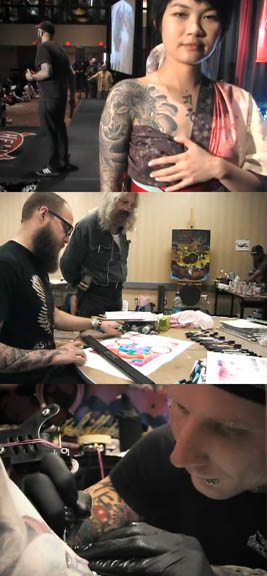 After 7 years of filming, Durb's friend Russell Dornhecker has released a documentary about the Hell City Tattoo Fest. It's a visual feast featuring the tattoo artists, collectors, performers, painters, showmen and downright characters that populate the Hell City Fest. Whether you've had a chance to attend the festival or not, you'll be entertained by this powerhouse film. Available now at our online store!


Michele and I once hosted an event called Innerstate at one of the Hell City Fests- you'll find a couple minutes of it in the Hell City documentary. We produced our own film about the Innerstate event, which features profiles of 40 tattooists working in a high-pressure environment over a 5 day period to create a group of masterwork paintings. The documentary comes with a book that has large format color plates of the paintings, along with chapters showing the artists working all week to create them. Since Innerstate and Hell City share such a strong relationship, we're now offering a bundle that includes both films and the book, at a discount price. A must for any tattoo library!

Thanks, and we'll be in touch soon!

Guy Aitchison

www.tattooeducation.com
www.hyperspacestudios.com
www.guyaitchison.com
www.protonpress.com